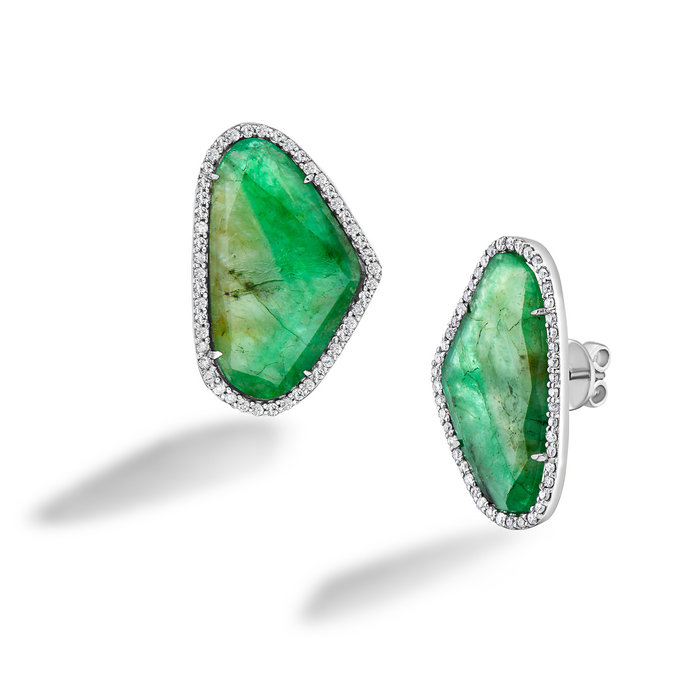 Gemstones are typically sliced or cut using a process called lapidary. This process involves using specialized tools and techniques to shape and polish a rough gemstone into a finished gemstone that can be used in jewelry or other decorative items.
Classically gemstones are faceted to sparkle and exude the inner transparency, reflecting light around within the gemstone. Gemstone slices are cut to highlight the millions of years of natural growth and the faltered imperfection that mother nature created. These stones are often opaque or feature bold inclusions.
Emerald slices are nature's glittering pieces of magic! These alluring slices of green [im]perfection are the perfect touch of unassuming glamour. Sparkling green gems shining bright in the light, catching wandering eyes with their mesmerizing beauty. Whether wearing them as a statement piece or adding a pop of color, emerald slices give a bold modern, stylish and confident allure.
The first step in the slicing process is to determine the rough gemstone's orientation and the best way to cut it in order to maximize its color, clarity, and overall beauty.
Once the rough gemstone is mounted on a lapidary machine, the cutting process begins. The lapidary operator uses a diamond covered saw blade to make the initial rough cuts, and then uses a grinding wheel to refine the shape and facets of the gemstone.
After the slicing process is complete, the slice is sent to a polisher, who polishes the gemstone to bring out its natural beauty and sparkle.
All gemstones can be sliced. Find out more about our Diamond Slice collection.