PRESS RELEASE | "Diamond by the Slice"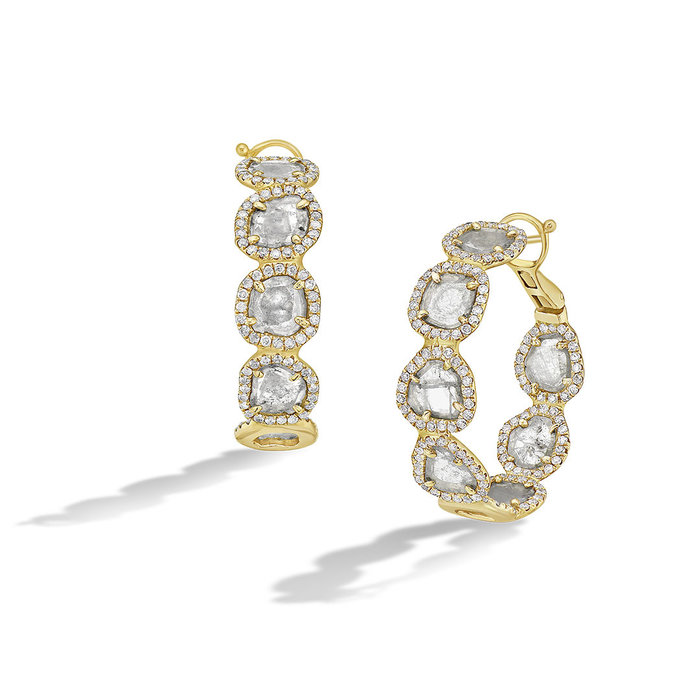 Perfectly Imperfect.
Tamsen Z by Ann Ziff launches the first full collection
Diamond by the Slice
...a series of earrings and necklaces designed to be adorned by all.
Crafted in 18K white gold and 18K yellow gold, these jewelry staples are designed to be worn, enjoyed, and not ignored.
Always shying away from convention, Ann Ziff has made slices of diamonds a signature stone within her iconic designs. These tabular stones with broad facets give large flashes of sparkle when worn. Unlike traditionally cut diamonds that are polished to hide or remove their imperfections, diamond slices are left in a more raw and natural state, showcasing each of the slices own unique pattern, color, and texture. This portrays an organic and distinctive appearance.
The hardest mineral on Earth and the most known gemstone, diamonds come in all shapes and sizes. Diamond slices are thin, flat pieces of rough diamond that have been cut and polished to reveal their unique natural crystal structure.
Spanning the entire rainbow of colors and ranging from a perfectly clear clarity to heavily salt and pepper, diamonds can be cut in an array of styles.
Marrying the undeniable sparkle of a diamond with the lightness of a thin slice, this collection provides an opportunity for large scale looks with bold, unique variance while still maintaining light as a feather essence to wear comfortably everyday.
Diamond slices are a window to the millions of years of heat and pressure applied to a single element, carbon. These glassy portals emphasize the inclusions, as a display of nature's imperfect formation.
Feathered inclusions, commonly found in facetted diamonds, are paraded on full show/ honored presenting the stresses and strains diamonds go thru for millions of years. Spiderweb like veins become landscapes of beauty.
Shop our slice collection          Shop All ➤