What makes aquamarine make the perfect choice?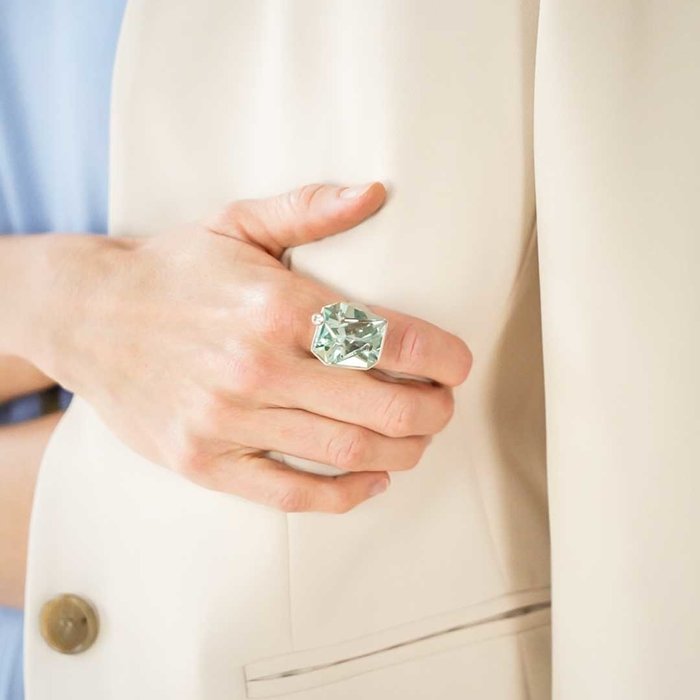 Aquamarine has long been known to be one of the most beautiful and enchanting stone choices for jewelry. Derived from the latin word "aqua marinus," meaning "water of the sea," it comes as no surprise that the beautiful stone mimics the blue-green hues of the sea.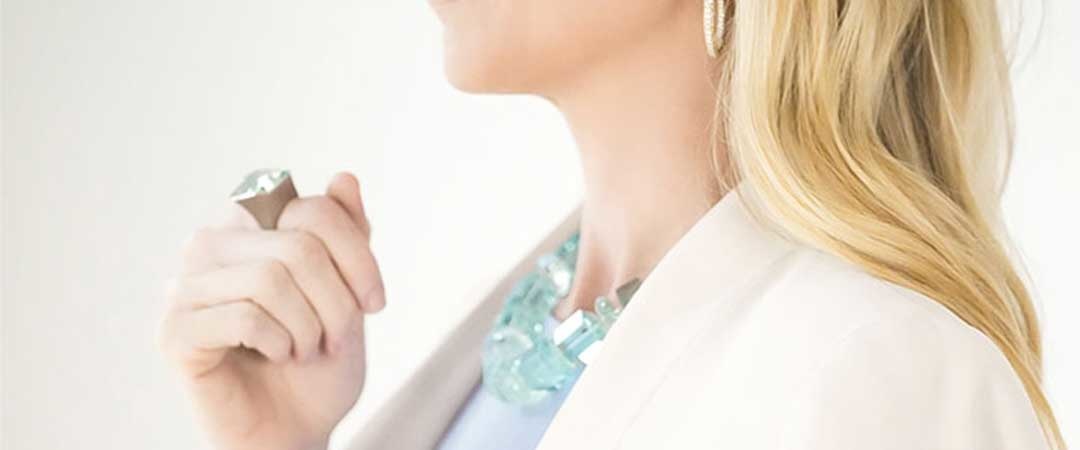 What makes aquamarine the perfect choice for jewelry is its unique ability to shift colours in sunlight. Aquamarine is known to possess a feature called "pleochroism," meaning it appears in different colours depending on the lighting. This makes it a perfect choice for  jewelry. Over a dimly lit dinner, your jewelry may appear green or yellow. When you step outside, it shifts to a blue-green sea hue, as its name would suggest.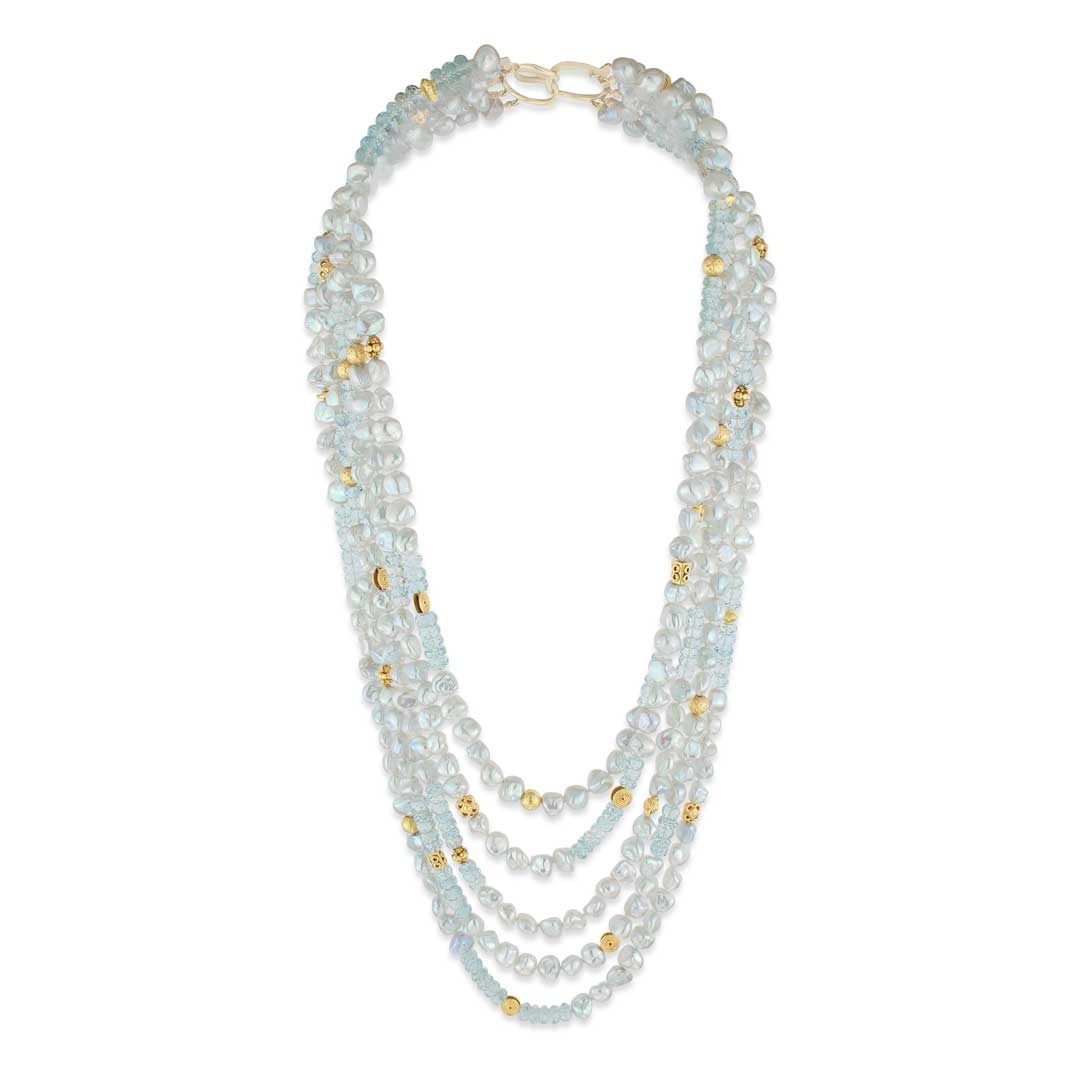 As spring approaches, you may have begun to dream of your beachy summer getaway. Be it Saint Tropez or the Hamptons, every beach vacation requires stunning jewelry. By now, the standardised uniform of metal framed sunglasses, basket bags, and crochet cover-ups isn't enough to set yourself apart at the beach clubs. Chic ladies know that beachy summer getaways require unique jewelry with playful designs. Sure, diamonds are a girl's best friend, at the beach, however, colours are king.
When choosing a stone for a ring, it's important to consider the hardness of the stone. We all know the fear, you take off your ring when washing your hands, and walk away. Unlike many other precious stones, aquamarines are very durable. Being that they are known as the stone of the sea, you can wear your aquamarine ring when washing your hands or laying by the sea.
What makes an aquamarine special?
Aquamarine jewelry has become a popular choice for many, due to the stone's brilliant clarity and transparency. A polished aquamarine can be cut into almost any shape while maintaining its perfectly glassy lustre.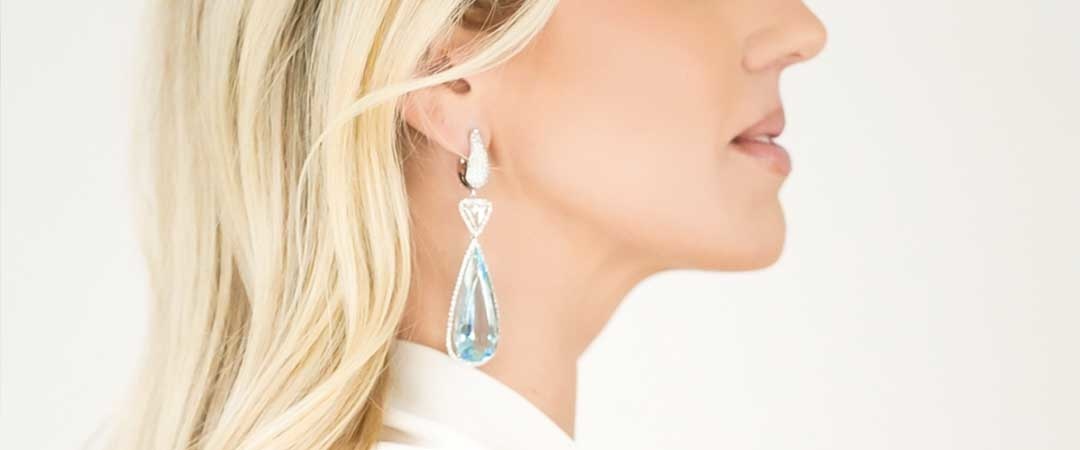 Durable and appropriate for everyday wear, aquamarine holds a rich history and significance. Its clear blue hue has made it a highly-sought after gem for both jewelry and ornamental purposes. 
For the unique and fashionable lady, rare and precious stones provide a timeless and unique alternative to the often-overplayed diamond ring. 
Still don't trust us? Look at Princess Diana. Princess Diana herself was photographed countless times wearing a stunning aquamarine ring. Unexpected and yet completely exquisite, the aquamarine has become a true classic. 
Though aquamarine is a common gemstone, not all aquamarine is equal. The kind of aquamarine found in Princess Diana's ring is very rare. Similar to the emerald, aquamarine is often found cloudy and occluded. A clear pale blue aquamarine the size of Princess Di's is extremely rare, making it a worthy heirloom piece.
How to choose the right aquamarine stone for you
The obvious answer, choose the largest stone you can find. All jokes aside, there is a lot to consider when buying aquamarine.
When considering cuts, you can find aquamarines in nearly any shape. If you're not sure what cut to choose, consider the following. Round cut aquamarines are excellent for showing off the gems brilliance and shine, while masking any impurities. For a high-grade aquamarine, the emerald cut is a no-brainer. Known for showing off the gems colour, clarity, and size, emerald cut aquamarine rings ooze luxury. 
What does aquamarine symbolise?
Aquamarine is known for its metaphysical properties. The blue-green aquamarine is said to have both healing and protective properties. Similar to the way in which the colour blue is associated with calm, aquamarine both soothes and calms its wearers. Often associated with the ocean, aquamarine has become a symbol of tranquillity and serenity.
Aquamarine's calming properties have long been acknowledged and treasured throughout history. In fact, the ancient Greeks believed aquamarine to be a gift from mermaids. The stone was used to protect sailors and calm seas. During the 19th century, the stone gained popularity and was often used as a symbol of eternal love and friendship. Aquamarine became a popular stone to give, as it was believed to bring both happiness and good fortune to those that wore it. 
If you're a March baby, you may feel a special connection to the aquamarine stone. With its connection to the sea, aquamarine's associations run deeper than just the month of March. If you're a Pisces you may feel drawn to the aquamarine. As a water sign and fish, it's only natural the aquamarine be used to symbolize your unique calmness and fluidity.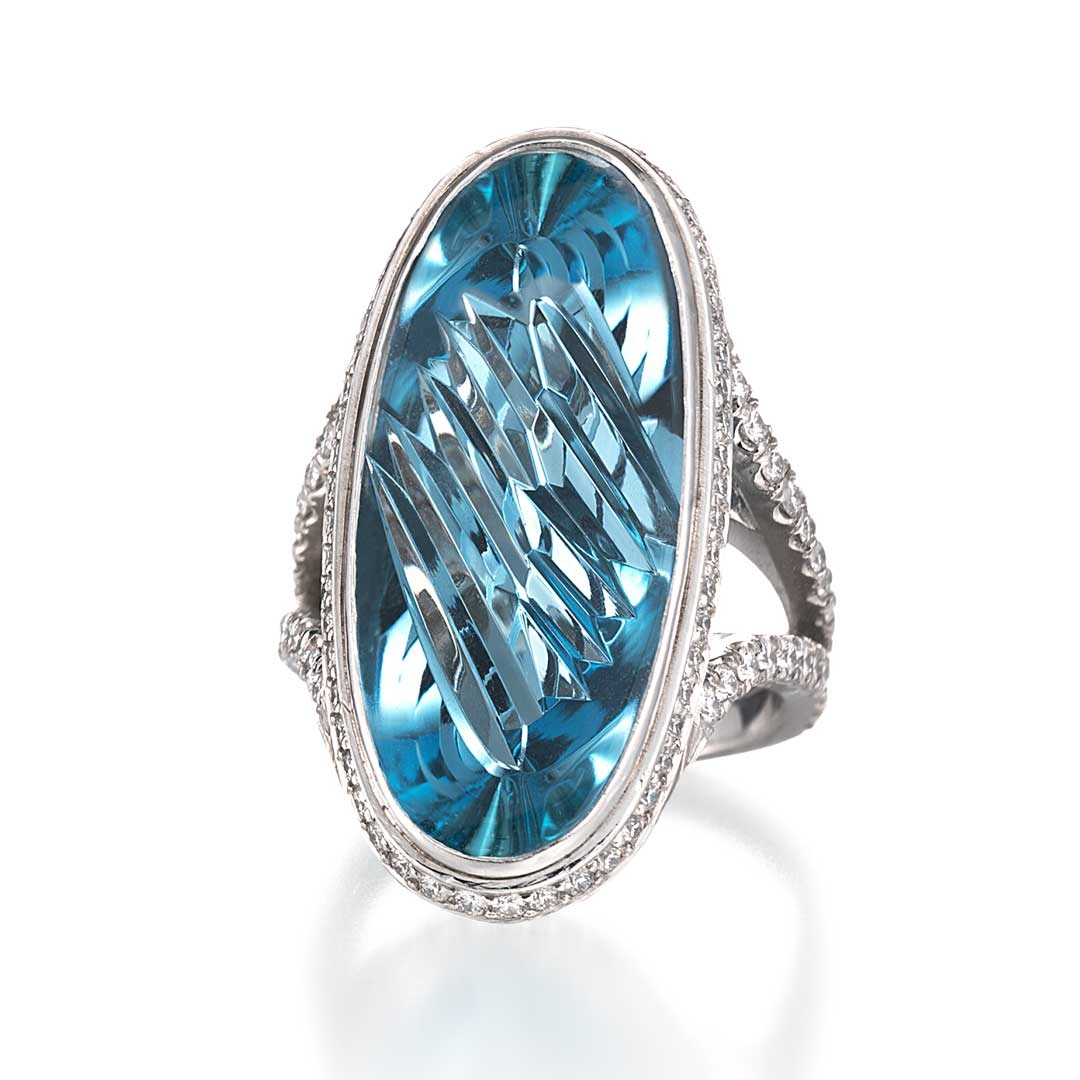 Conclusion
To conclude, aquamarine makes an excellent stone for jewelry. It's princess approved, and its charm extends beyond its enchanting blue hues. Offering a rich history and symbolism, aquamarine is both uniquely stylish and meaningful. They say fashion is a language. Jewelry is much the same. Deeply personal and always held close to the wearer, selecting jewelry is much more intimate than it would appear on the surface. Aquamarine offers meaning, symbolism, and connection to the sea. The next time you're buying jewelry, you might consider the precious and rare aquamarine.

Aquamarine Gemstone FAQs
Is aquamarine a good engagement ring?
Yes! While aquamarine has traditionally been given as a gift to mark the 19th wedding anniversary, its symbolism as a stone of eternal love makes it a unique and timeless choice for an engagement ring.
How to wear an aquamarine jewelry?
Aquamarine can be dressed up and down. While it can be worn with the most elegant gowns at a special event, or even your wedding, it can also fit seamlessly into a beachy holiday wardrobe. The setting metal, cut, and size of aquamarine you choose will all determine how and where your aquamarine ring is most suited. For an engagement, an aquamarine ring with a white gold band might be most suitable. 
Where to buy aquamarine jewelry?
Tamsen Z, of course.
What is the longevity of aquamarine?
Aquamarine is very hard and durable. In a ring, aquamarine can be worn daily. The hardness of the stone allows it to resist scratches and maintain its polish. If properly maintained, an aquamarine can stay in your collection for a lifetime.