The Sapphire Gem: A Royal Favorite with a Rich History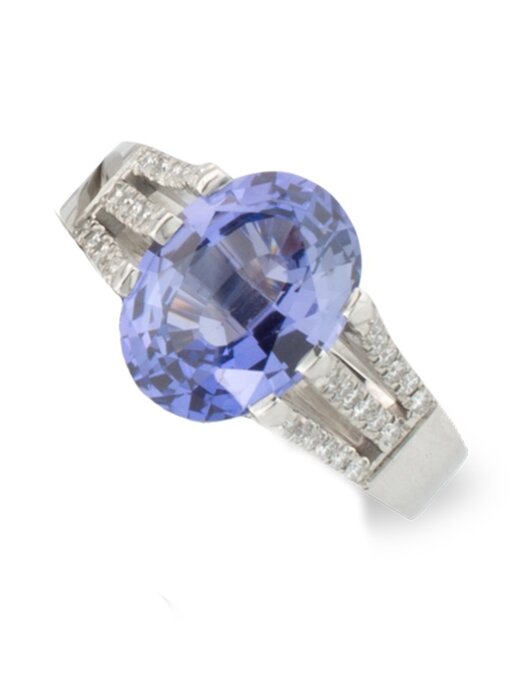 Sapphire, derived from the Greek word sappheiros (meaning blue), is believed to have initially referred to the blue lapis lazuli stone. Sapphire gems were first discovered in the Kashmir Himalayas circa 1880. Between the years 1882 and 1887, the area was a hot spot for mining exceptionally large and brilliant celestial blue sapphires. Today, Kashmir sapphires remain highly prized and valuable for their size and royal blue color that appears velvety and soft due to the fine silk inclusions present within the stones of this region.
Sapphire gems are typically characterized by their bright royal blue coloring, despite existing in a variety of colors. They belong to a group of minerals referred to as corundum. Similar to diamonds, corundum minerals form deep within the earth's surface, over millions of years. A sapphire's color is realized during its formation, when trace minerals mix with corundum turning the gem blue, pink, purple, yellow, green, or even multicolored. Colorless sapphires are among the purest corundum minerals. Containing no trace elements, they're commonly used for watch faces due to their durability (ranking a 9 on the Mohs scale), scratch resistance, and incredible transparency.
Despite its availability in a variety of eye-catching hues, the blue sapphire remains the most prominent and sought-after. Some of the most significant sapphire gem deposits are found in Sri Lanka, Burma (referring to the provenances of Kashmir and Myanmar), Thailand, Vietnam, Laos, Africa, and even the United States. However, the areas of Burma, Sri Lanka, and Madagascar remain known for producing the most fabulous and saturated blue sapphires.
The History and Significance of Sapphire Gems
Throughout history, sapphires have long been associated with royalty, a link which has been heavily reinforced by the British monarchy through the stone's prominent use in royal regalia and its iconic appearance in one of the most famed engagement rings, currently worn by the Duchess of Cambridge, Princess Kate. Despite the sapphire gem's significant association with the British monarchy, its royal affiliation dates back to ancient Greek and Roman royalty. At the time, kings and queens of ancient Rome and Greece believed that sapphire gems would protect their wearer from envy and harm.
Deeply intertwined with Roman history, sapphires have appeared in nearly all of the Papal tiaras. Perhaps the most significant is the tiara of Pope Boniface VIII, which included an astounding 72 sapphires. Among the Roman Catholics, sapphire gems were believed to be a holy stone, symbolizing heaven, truth, sanctity, and honesty.
Beyond Rome, blue sapphires were appreciated by several societies, including ancient Greece, Jerusalem, and the Middle East. From symbolic protection against harm to heavenly associations and even healing powers against physical ailments, the sapphire's lore transcends culture, language, and time.
Those born in the month of September, will be glad to know that their birthstone, the sapphire gem, possesses significant metaphysical properties and symbolism, which have been pondered and admired throughout history. The symbolism of September's birthstone that is accepted today remains largely consistent with ancient meanings, as it is recognized as a symbol of sincerity, truth, faithfulness, and nobility.
Blue Sapphire, Demantoid Garnet, and Diamond Ring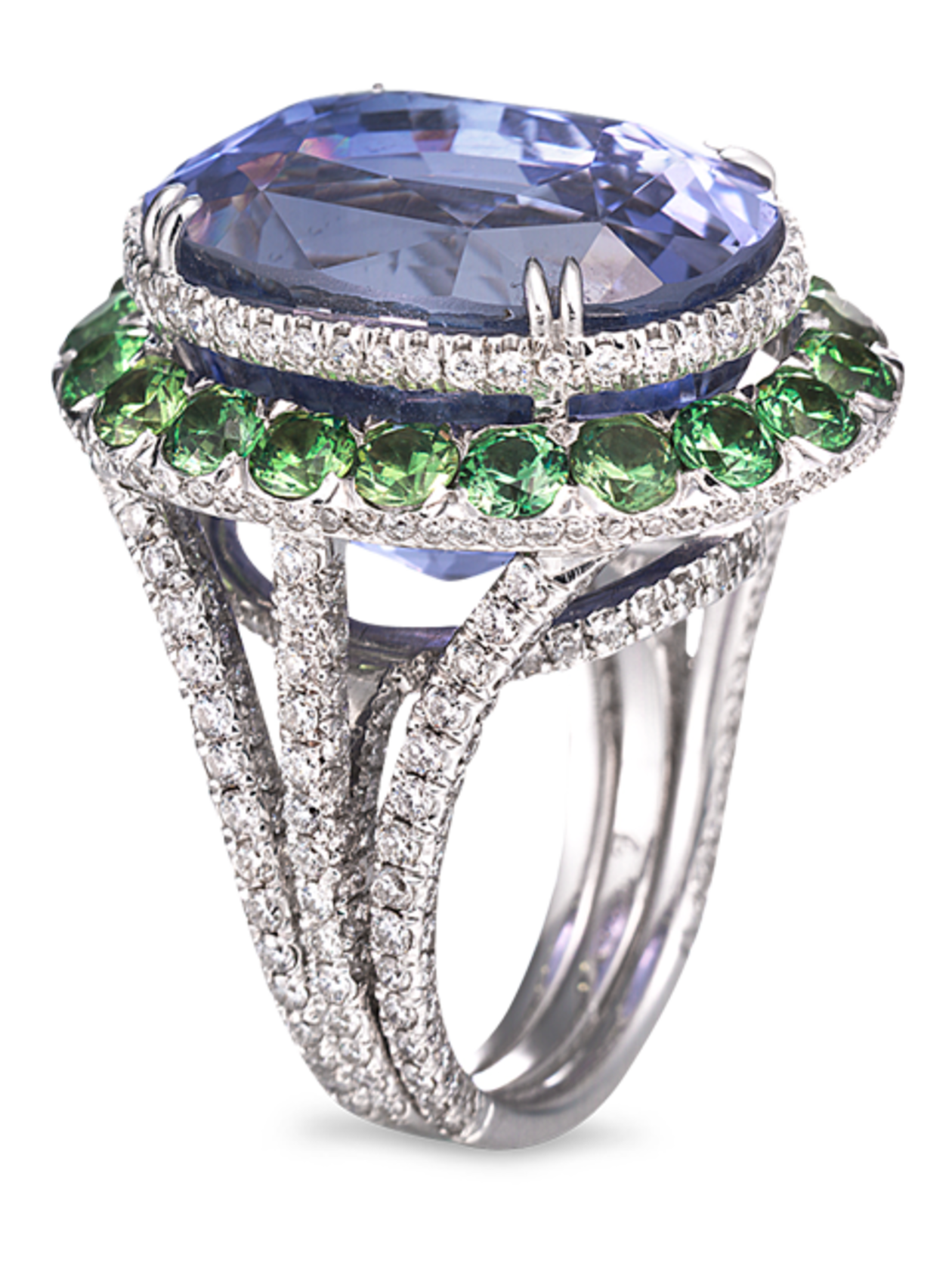 Color changing sapphires are among the rarest and most extraordinary varieties of corundum minerals. Initially appearing blue and shifting to violet, these sapphires ignite curiosity with their breathtaking display of colors. The standard for color changing sapphire indicates a spectrum with which the stone can shift colors. While most stones display a subtle shift in hues others can change dramatically, such as a shift from green to red, representing a 100% color change.
Our Blue Sapphire, Demantoid Garnet & Diamond Ring features a stunning 40.62 carat oval shaped blue sapphire. This magnificent color changing sapphire shifts its hue when viewed in daylight vs. incandescent light, allowing it to transform from blue to violet. Surrounded by a halo of demantoid garnet and diamonds, this sapphire ring is undeniably royal. The exceptional sapphire gem enthroned at its center, is paramount in its size, color intensity, color changing properties, clarity, and rarity, distinguishing this ring's extraordinary value.
Lavender Star Sapphire Ring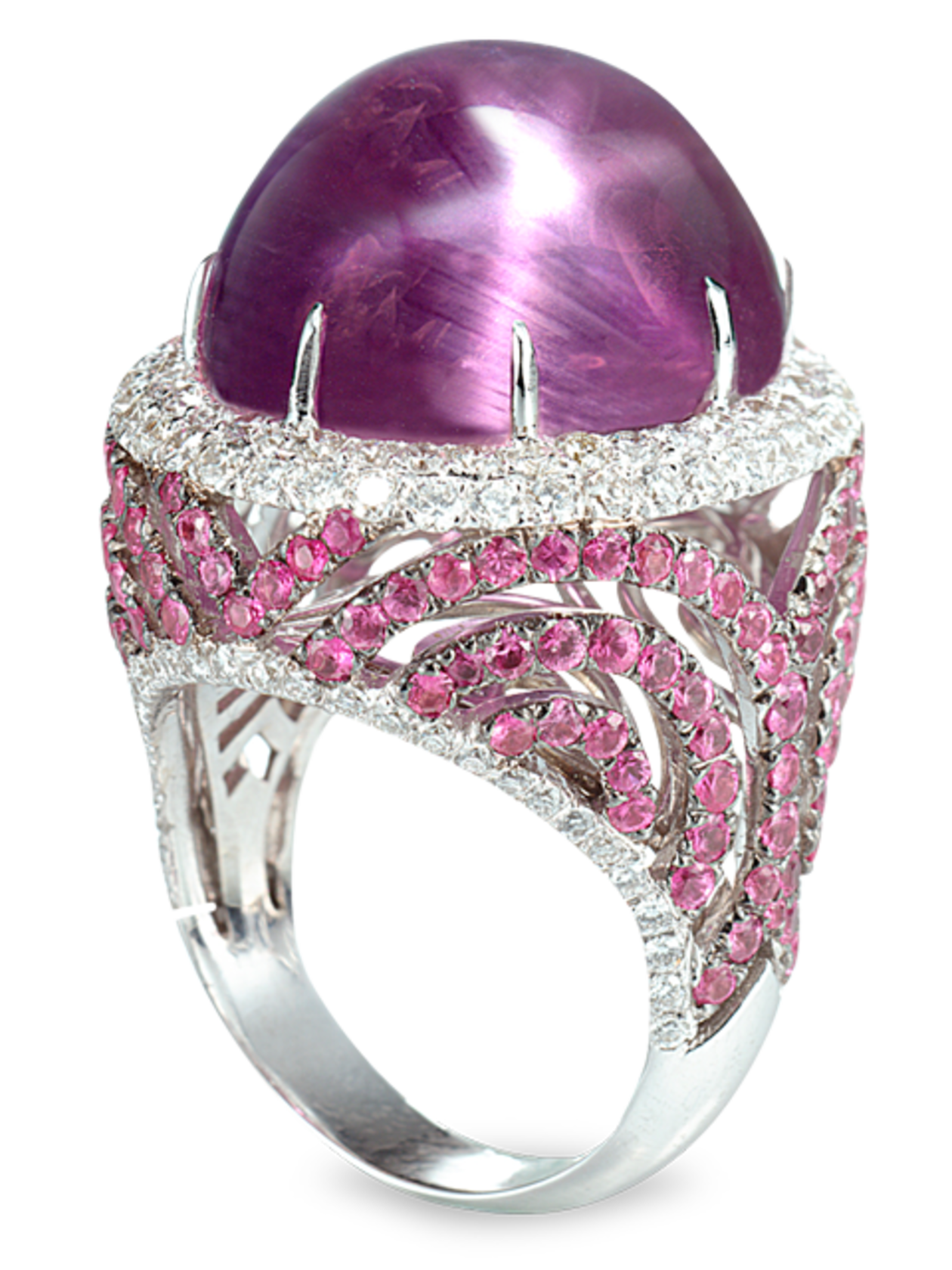 Star sapphires are a unique variety of sapphire gems that possess a distinct reflection, which gives the impression of a star. The luminous star appearance on the sapphire is known as an asterism. Asterism, derived from the Latin word astrum (meaning star), is caused by rutilated inclusions present within the sapphire gem. When light reflects across the surface of a sapphire with these inclusions, a distinct star appears. Star sapphires are typically polished and cut into a cabochon shape to maximize the stone's star effect.
Our Lavender Star Sapphire Ring combines a 45.06 carat lavender star sapphire with 7.26 carats of pink sapphire and 2.10 carats of diamond. Gorgeous and feminine, the remarkable size and exemplary star that this sapphire boasts makes this a piece of exceptional rarity.
Fancy-Cut Diamond and Blue Sapphire Earrings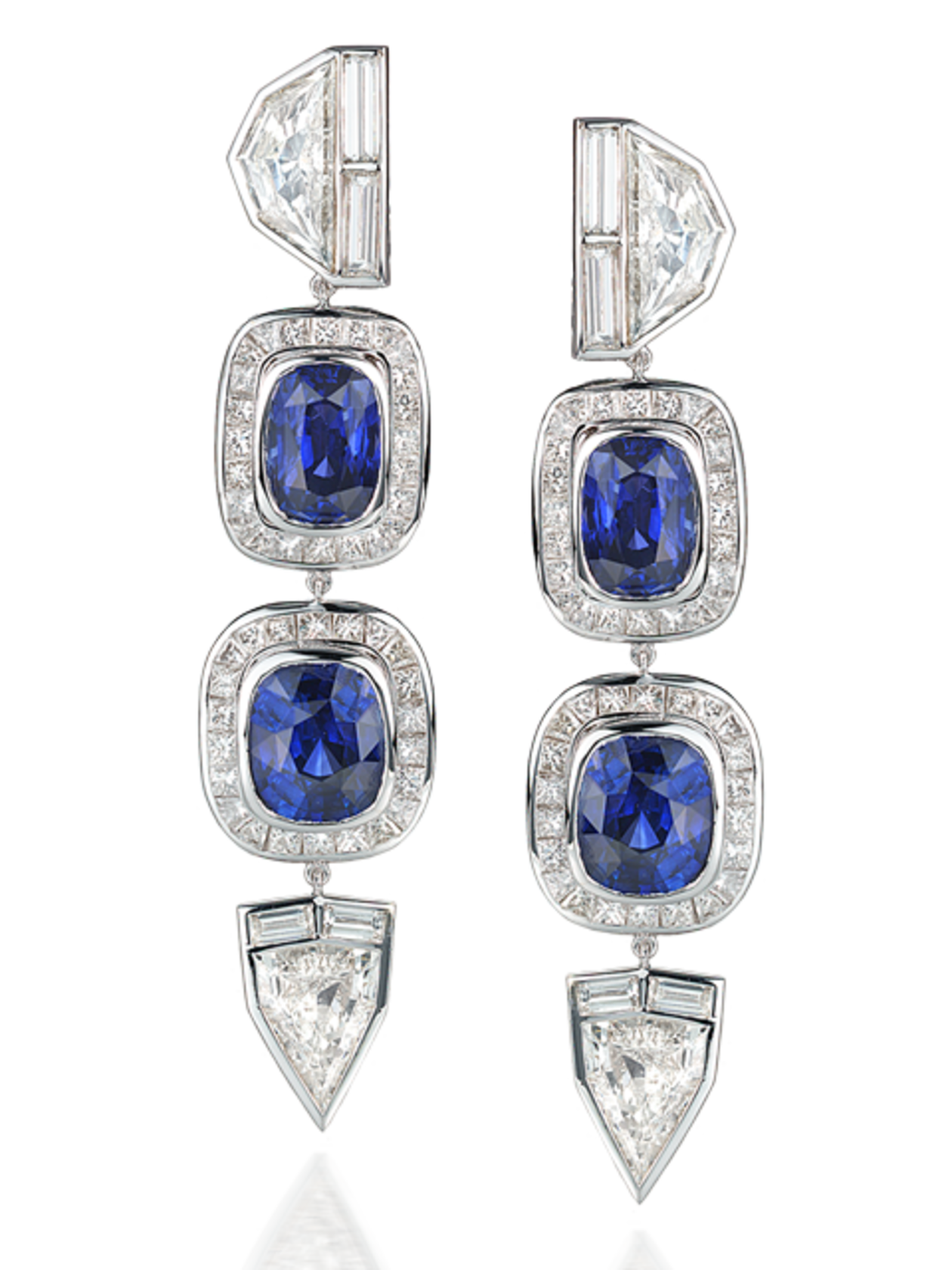 Treasured and beloved by many, blue sapphires are one of history's most classic and enduring stones. Blue sapphires can appear in different shades of blue, depending on the angle with which they are viewed, a feature known as dichroism. Dichroism, originating from the Greek word dichroos (meaning of two colors), refers to the blue sapphire's unique ability to reflect its color brilliantly and display a variety of blue hues.
While the symbolism and significance of sapphire gems can be attributed to any of the corundum mineral's colors, blue sapphires have been favored above all others for use in regalia, both royal and religious. From the British monarchy to the Vatican, blue sapphires remain one of the most precious and timeless gems, placing this gemstone at the center of some of history's most eminent examples of fine jewelry.
Our Fancy-Cut Diamond & Blue Sapphire Earrings contain 19 carats of stunning blue sapphire, and 12.85 carats of diamond, set in 18k white gold. Their classic art-deco silhouette and brilliant combination of white and blue, make for a timeless piece. Designed with a sophisticated balance of strength and elegance, these earrings pair well with an effortless updo hairstyle, framing your face to complete a look perfect for a Gala, Opera, or any event that calls for an elevated touch.
Pink Sapphire and Diamond Bracelet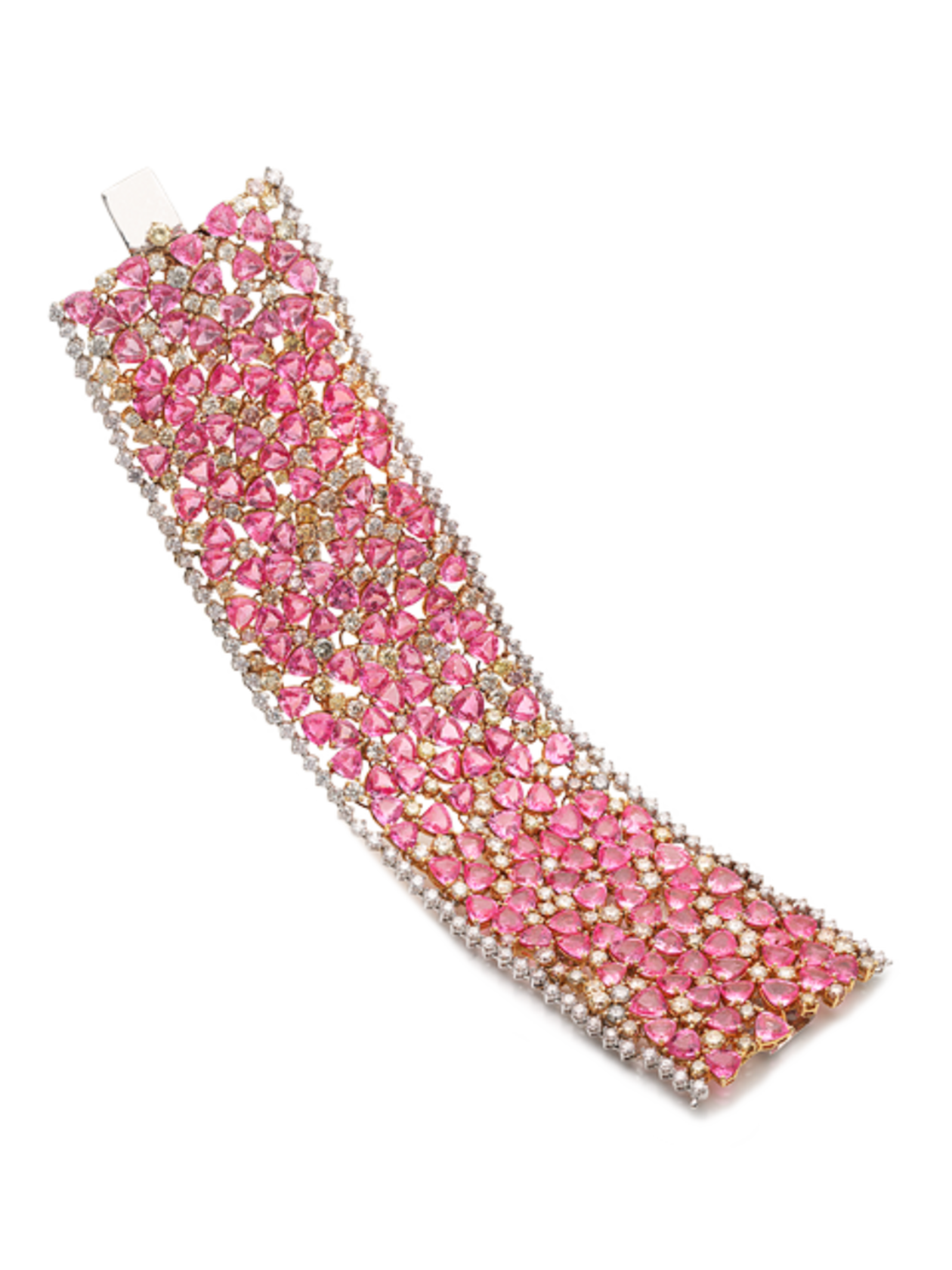 Pink sapphires are one of the rarer colors of the corundum mineral variety. Caused by trace elements of chromium, the pink sapphire develops its charming pink hue during formation. The more chromium present within the stone, the deeper its shade of pink will appear. In fact, some pink sapphires appear so deep they're nearly red. Pink sapphires found in this deep pink-red hue have led to confusion in the gem world in discerning the difference between rubies and pink sapphires.
Pink sapphires possess their own unique symbolism and meaning. Although there are many generally accepted meanings related to love, truth, and feminine power, many believe that the stone acts as a magnet that attracts good fortune into your life.
Our Pink Sapphire and Diamond Bracelet combines 110.45 carats of pink sapphire with 24.51 carats of yellow and white diamonds. Breathtaking and exceptional, this wide bracelet sits elegantly on the wrist like a cuff. The pink sapphire's symbolism of love and its tradition as a gift for 45th wedding anniversaries make this bracelet the perfect gift and symbol of eternal love.
Conclusion
Sapphire gems possess a rich history, cementing their claim as one of the most precious and royal gemstones. Despite being popularized by the British monarchy for their use in jewelry, their history extends farther, revealing that sapphire gems have long been appreciated by ancient European royalty. With strong history and symbolism, sapphire gems possess a heavenly significance embodying truth, sincerity, and faithfulness. Those born in the month of September are fortunate to call Sapphire their birthstone, however we all can harness the benefits of the stone's incredible powers.
At Tamsen Z, our collection of sapphire pieces spans a wide range of corundum varieties including the classic royal blue, pink, lavender, orange, green, color changing, star, and even tri-color. Our expertly sourced collection includes some of the most rare and exceptional sapphire gems. Discover our collection today and invest in one of history's most precious and enduring gemstones.