The Opal Stone: The Queen Of Gems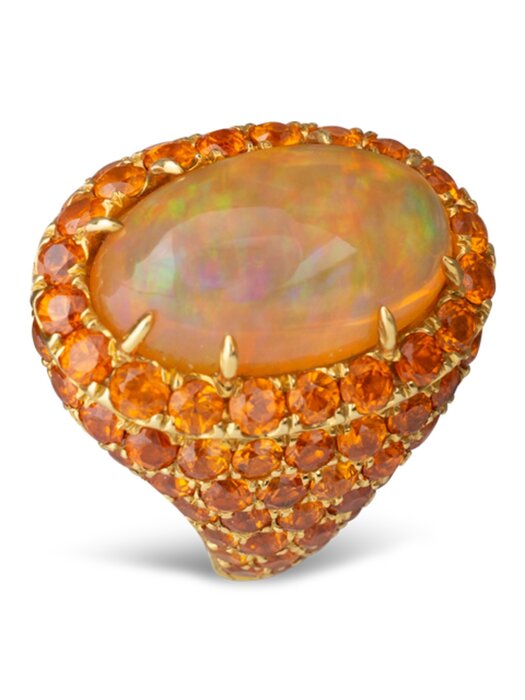 The opal stone received its modern name from the Sanskrit word Upala (meaning jewel or precious stone) and can be traced back to before Christ. Commonly referred to as the 'queen of gems', the opal stone earned this nickname from William Shakespeare, who used opal stones in his plays as the ultimate symbol of lavishness. 
Opal stones are found worldwide with deposits found in Brazil, Mexico, Honduras, and the United States. However, 95% of the world's precious opal stones are found in Australia, where the stone has been named the official national gemstone. 
Formed in cretaceous-age sandstones and mudstones, opal stones are essentially formed from fossilized raindrops. Rarely, and only in Australia, are opalized animal and plant fossils found. Sea mollusk shells and skeletons can exhibit a stunning shimmering opal exterior, which occurs as a result of silica dissolving in water.
The Significance and Symbolism of Opal Stones
Opal stones are known as the birthstone for the month of October, presuming additional significance to those born in that month. However, their use in jewelry has been prevalent since ancient times. Opal stones were known as a symbol of fidelity and assurance among ancient admirers. They were also believed to have therapeutic abilities that were so powerful they could cure eye diseases and were often worn as an amulet to ward off such diseases. 
The mystical powers of opal stones were once thought to amplify one's traits, bringing the wearers' characteristics, whether good or bad, to the surface. They were also believed to enhance self-esteem, encourage spontaneity, and stimulate originality, creativity, and artistic energy. Above all, the most significant belief surrounding the stone was that it possessed strong karmic properties, meaning it would encourage one to put positive emotions out into the world, bringing good karma back to its wearer in return.
The characteristics and symbolism of opal stones that are most widely accepted today center around ideas of amplification, hope, love, passion, desire, emotional stability, loyalty, and faithfulness.
The Bad Luck Myth of Opal Stones
Throughout history, the opal stone has fallen victim to several superstitions that landed the queen of gems a bad reputation. This bad luck myth is thought to have been the fault of early jewelers not knowing how to handle the stone. As a result, opal stones would often dry out and lose their shine or break, which led to wearers believing their damaged gem had something to do with their own personal misfortune or fate. 
Other superstitions claimed that the opal stone should only be worn as a birthstone, by its October-born wearers. It was also believed that Opal jewelry should never be given as a gift or placed in an engagement ring, for superstitious fear that its recipient would become a widow. Lastly, it was believed that upon the passing of its owner, the opal stone would lose its shine, which is now understood to occur as a result of the stone drying out. 
The bad luck myths are just that, myths. Ancient Romans, Greeks, and Arabs all adorned themselves lavishly in opals for centuries. As a favorite of the late Queen Victoria, opals found their way into many of her royal majesty's jewels throughout her 19th-century reign. Despite being misunderstood for their superstitions, opal stones are beloved by many today for their enchanting beauty, unique sophistication, and symbolism. 
Black Opal and Russian Demantoid Garnet Ring
Black opals are often referred to as the 'king of opals' and are considered to be the rarest and most valuable variety of opals. The name 'black opal' is given to any opal that displays a play of color set on a black or dark body. Unlike typical opal stones, black opals contain carbon and iron oxide trace elements, which cause the stones unusual darkness. What makes black opals so special is the vibrancy of the tones they project. Due to their dark underlying body, the vibrancy of colors reflected appears with much greater intensity. 
Our Black Opal and Russian Demantoid Garnet Ring features a stunning 6.5 carat black opal that is complemented by two green demantoid garnet stones that draw out the black opal's green hues. This opal ring possesses a mesmerizing pattern that elegantly reflects both green and blue in a patchwork-like formation. 
Fire Opal, Yellow Diamond, Orange Sapphire Collar Necklace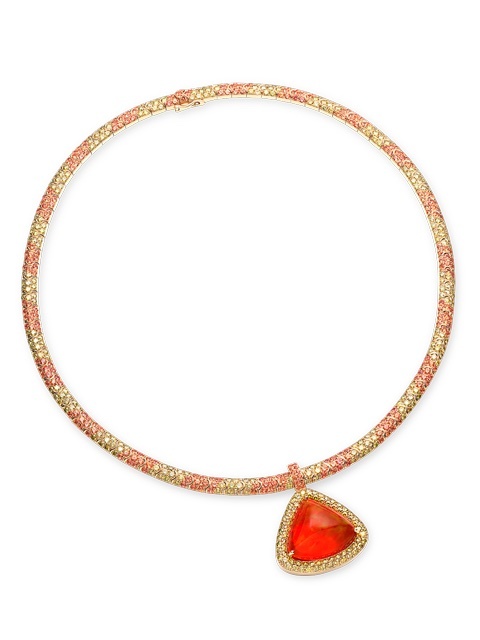 Fire opals are a variety of opal that is found in bright hues of red, orange, and yellow, as their name would suggest. Unlike most other varieties of opal stones, fire opals are typically crystal clear and intensely bright. They're also frequently cut into faceted shapes as opposed to the traditional cabochon cut that is regularly used for opals. 
When it comes to fire opals, there is a unique distinction between precious opals and common opals. The former, precious opals, display the quintessential play of colors for which opals are so loved. Precious opal stones are becoming increasingly rare, with some prospectors determining that they're scarcer than diamonds.
Our Fire Opal, Yellow Diamond, and Orange Sapphire Collar Necklace features an 18.97 carat fire opal at its centerpiece that's skillfully accompanied by yellow diamonds and orange sapphires that draw out the stone's incandescent warmth. Captivating with its luminosity, our opal necklace proudly contains one of the most scarcely found fiery and opalescent precious opal stones that dances as it reflects its play of colors. 
Boulder Opal and Demantoid Garnet Ring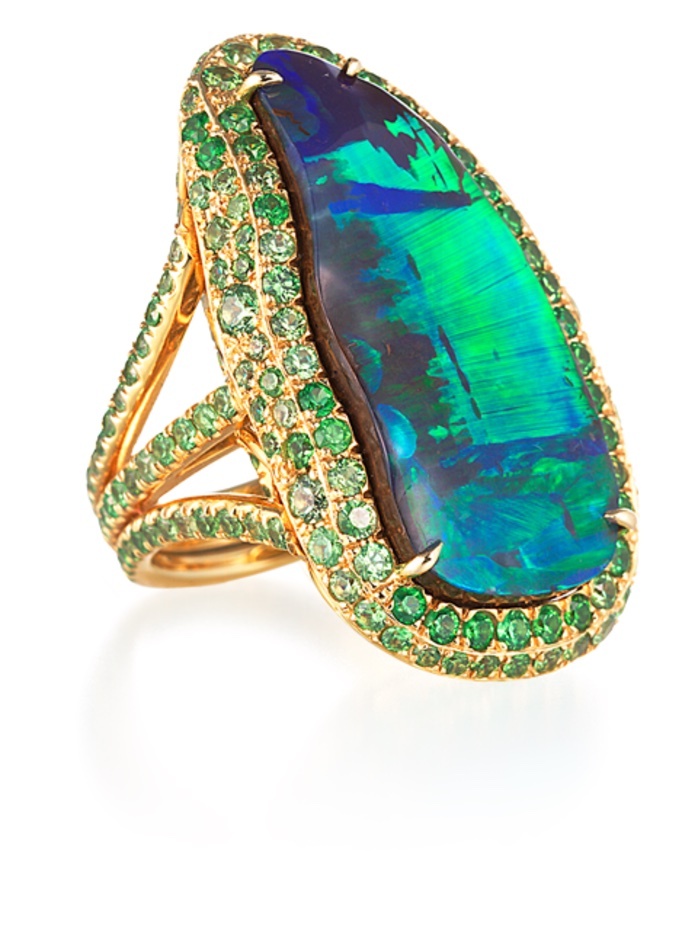 Boulder opals are the second most valuable variety of opal stones. Originating in Australia, they're found in the cracks of large underground ironstone boulders. Because the veins of opal formed within these cracks are so thin, opal cutters must leave the ironstone on the back of the opal to prevent the stone from breaking. Not to be confused with doublets, boulder opals are completely natural. The dark backing of ironstone typically leads to an exceptional vibrancy of color that's similar to that seen in black opals. 
Our Boulder Opal and Demantoid Garnet Ring combines a magnificent 25.50 carat boulder opal with dreamy green demantoid garnet pave. Echoing the green hues found in the boulder opal's pattern, the demantoid garnet emphasizes the vibrancy of the opal's play of colors. 
White Crystal Opal Earrings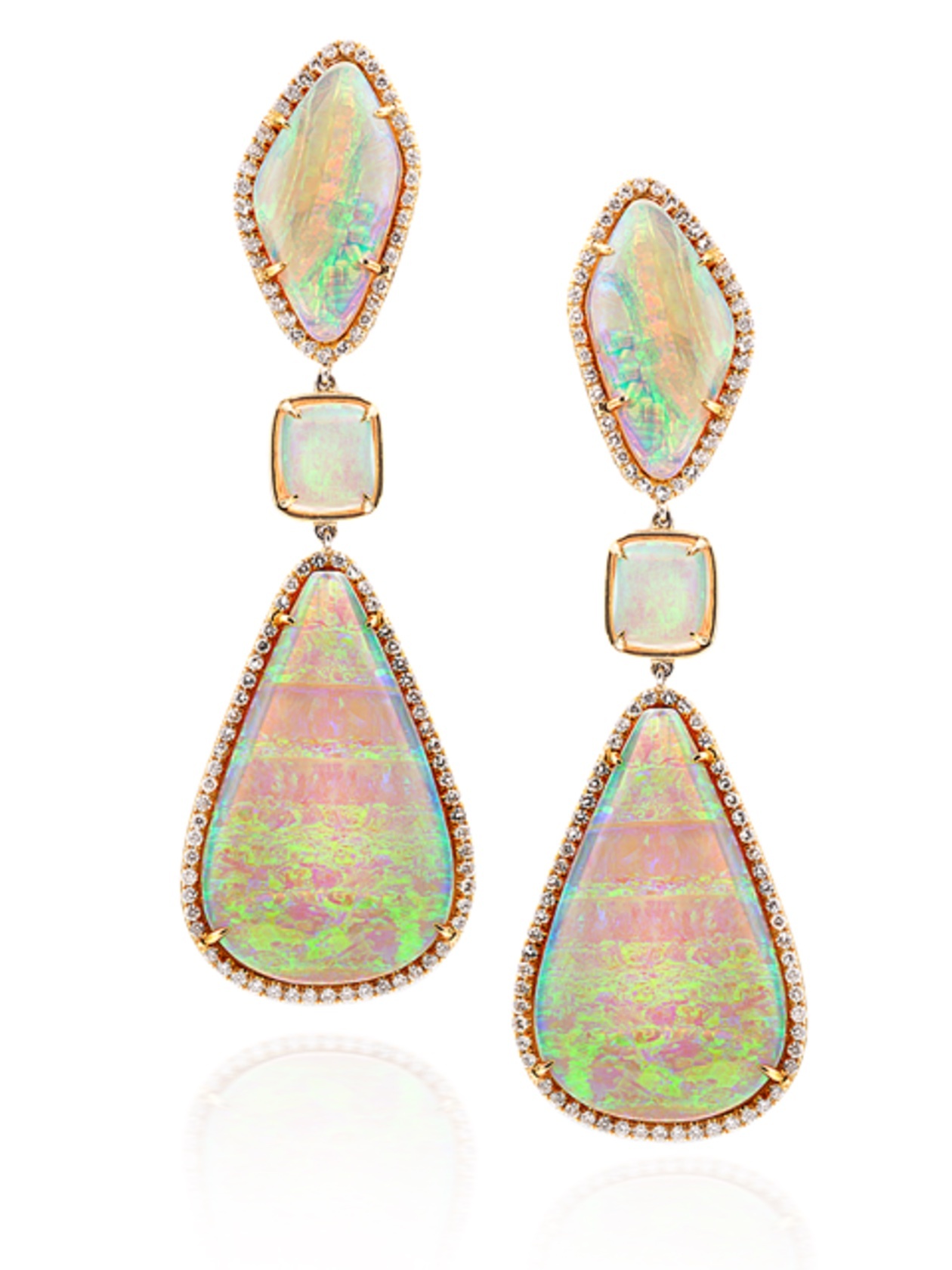 Crystal opals can be found amongst any type of opal with the term 'crystal' simply referring to the stone's transparency. This degree of transparency is also commonly referred to as the stone's diaphaneity. Crystal opals possess a high degree of diaphaneity, which often results in greater clarity and vibrancy of color. While crystal opals can be found in any type of opal, with the exception of boulder opals due to their ironstone backing, white crystal opals are among the most valuable and beautiful. 
Our White Crystal Opal Earrings are one of the most precious in our collection due to their high degree of transparency and ribboned pattern that displays ribbon-like formations of color that showcase the stone's striking play of colors. These opal earrings combine 41.69 carats of white crystal opal with diamond pave and 18K yellow gold for a display of colors that's as precious as it is rare. 
Conclusion
Opal stones possess a rich history, filled with symbolism and surrounded by superstition and mythos. Dubbed the 'queen of gems' by Shakespeare, many appreciated the stone's fiery play of colors, including the ancient Greeks and Romans, as well as the late Queen Victoria. Despite there being many superstitions and myths related to the stone, they appear to all be just that - myths. 
At Tamsen Z, the opal stone is among our favorite stones. We admire each variety of opal, across the stone's wide range of ethereal colorways. The opalescent dance of colors is entirely different from that seen in any other type of gemstone. Not only that but opals occur in an endless array of unique patterns, making each stone distinctly one-of-one. It's no wonder the opal stone is one of our personal favorites with each of our jewelry pieces at Tamsen Z being uniquely one of a kind. Discover our captivating selection of opal jewelry today.