Ruby: Nature's Most Precious Stone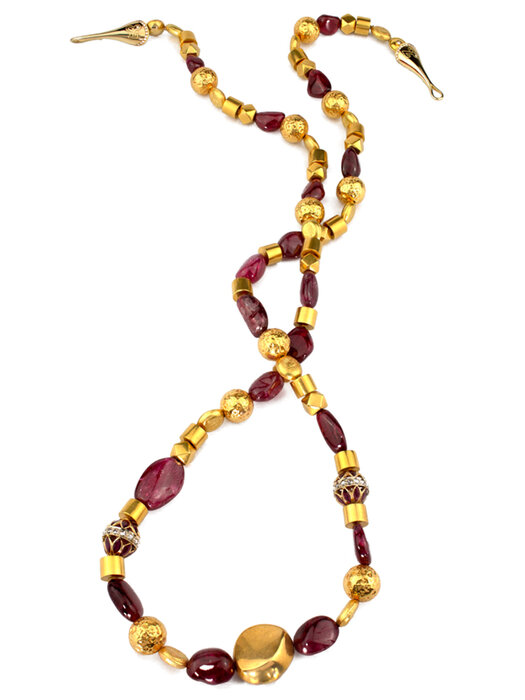 The Science Behind Ruby
Ruby, derived from the Latin word ruber meaning red, is one of the four most precious stones, among emeralds, sapphires, and diamonds.
The formation of natural ruby occurs deep within the earth's crust under intense heat and pressure. In the process known as crystallization, the minerals transform from a molten state to a crystallized form. Only in the rarest mineral combinations, with the presence of chromium, does a stone take on the stunning red hue and become a ruby. This process can take millions of years, making natural rubies all the more desirable.
Ruby's exceptional value is also due to its great scarcity on earth, as the stone exists in few places. Found in areas with metamorphic rock such as marble, gneiss, and schist, most rubies are formed in the regions of Myanmar, Thailand, Sri Lanka, Madagascar, Tanzania, and Mozambique. Therefore, high-quality, natural ruby specimens are extremely uncommon. Tamsen Z is proud to employ these most prized and rare examples in our ruby jewelry.
Rubies are characterized by both their magnificent rich red hue and their pleochroic properties. Pleochroic, meaning more colors, refers to ruby's ability to display a range of colors when viewed from different angles. These range from hues of pink to orange, purple, and even blue. Rubies are also notable for their strong fluorescent properties, which vary by the region from which they originate. Burmese rubies fluoresce most, both in saturation and intensity and are famous for their ability to glow brightly under ultraviolet light.
Historical Significance and Symbolism
With a historical significance as rich as the stone's stunning red hue, ancient societies have revered, treasured and traded rubies since 200 BC. The ancient traditions of ruby appear in religious relics and the adornment of royalty. Essential to rulers throughout history, "the king's gem", features prominently in scepters and crowns. Its incredible durability allowed it to withstand battle; the blood red stone glittering triumphantly upon royal armor was believed to provide protection to its wearer.
The appearance of the color red in nature is a rare phenomenon. The ruby's other-worldly red hue mystified its early beholders, inspiring mythology and surrounding the stone with symbolism. The special meaning ascribed to the stone has appeared in mankind's most significant early texts, such as its frequent use in the bible, where ruby is considered to be the most precious of the 12 stones created by God. In European cultures, rubies have been associated with beauty, health, wisdom, wealth, and success in love.
Ruby retains its significance and value today, remaining highly prized in gemology. In our time, the associations and symbolism of ruby are most present in its role as July's birthstone. Ruby jewelry represents its July-born wearers, reflecting their integrity, courage and is believed to enhance their innate predisposition to good fortune and happiness.
With the ruby's breathtaking fiery red hue, symbolism, and preciousness, its importance is solidified as a distinguished centerpiece in modern jewelry. The artful conceptions of this precious red stone by our founder and designer Ann Ziff exemplify ruby's contemporary reimagining. In this July edition of the Journal, we are shining a spotlight on some of Tamsen Z's ruby pieces. 
Ruby and Gold Necklace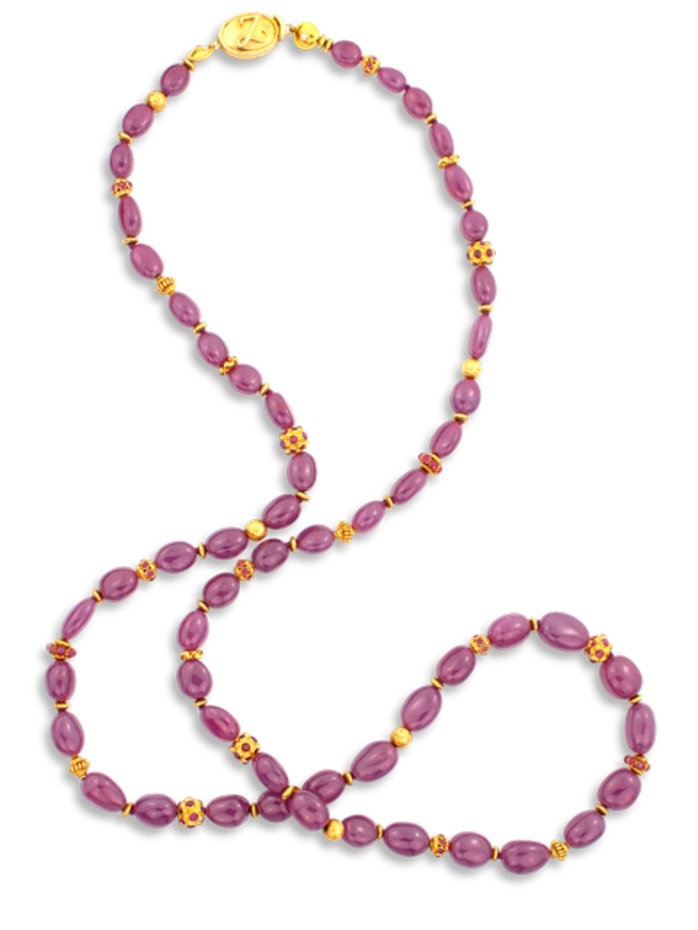 With a 9.0 hardness on the Mohs scale, ruby is durable and can be cut into nearly any shape, making it ideal for use in jewelry. Ruby beads have long been recognized for their value and beauty. The beauty of rubies lies in their imperfections. Natural rubies are very rarely found inclusion-free. Clear, brilliant rubies are typically treated with heat to achieve a shiny finish. Similar to emeralds, rubies are commonly found with inclusions and, in some cases, the inclusions add to the gemstone's ability to reflect light. Despite inclusion-free rubies being extremely rare, clarity remains an important determinant of value.
The second determinant of a ruby's value is its coloring. Rubies with deeper shades of red and a slight purple hue are considered the most valuable. Slight color differences can dramatically affect value. Sourcing rubies with deep coloring that also present a high degree of clarity is immensely challenging.
Our Ruby and Gold Necklace features 554 carats of ruby beads separated by 18k yellow gold rondelles. Measuring 38 inches in length, this necklace skillfully showcases the natural beauty of rubies. When cutting rubies, experts can cut the ruby such that it reduces orange and pink hues and draws out deep red and purple hues. The ruby beads displayed in our Ruby and Gold Necklace artfully preserve the ruby's natural beauty by showing their incredible size, rarity, and high-value color and clarity.
Diamond Slice, Spinel, and Ruby Earrings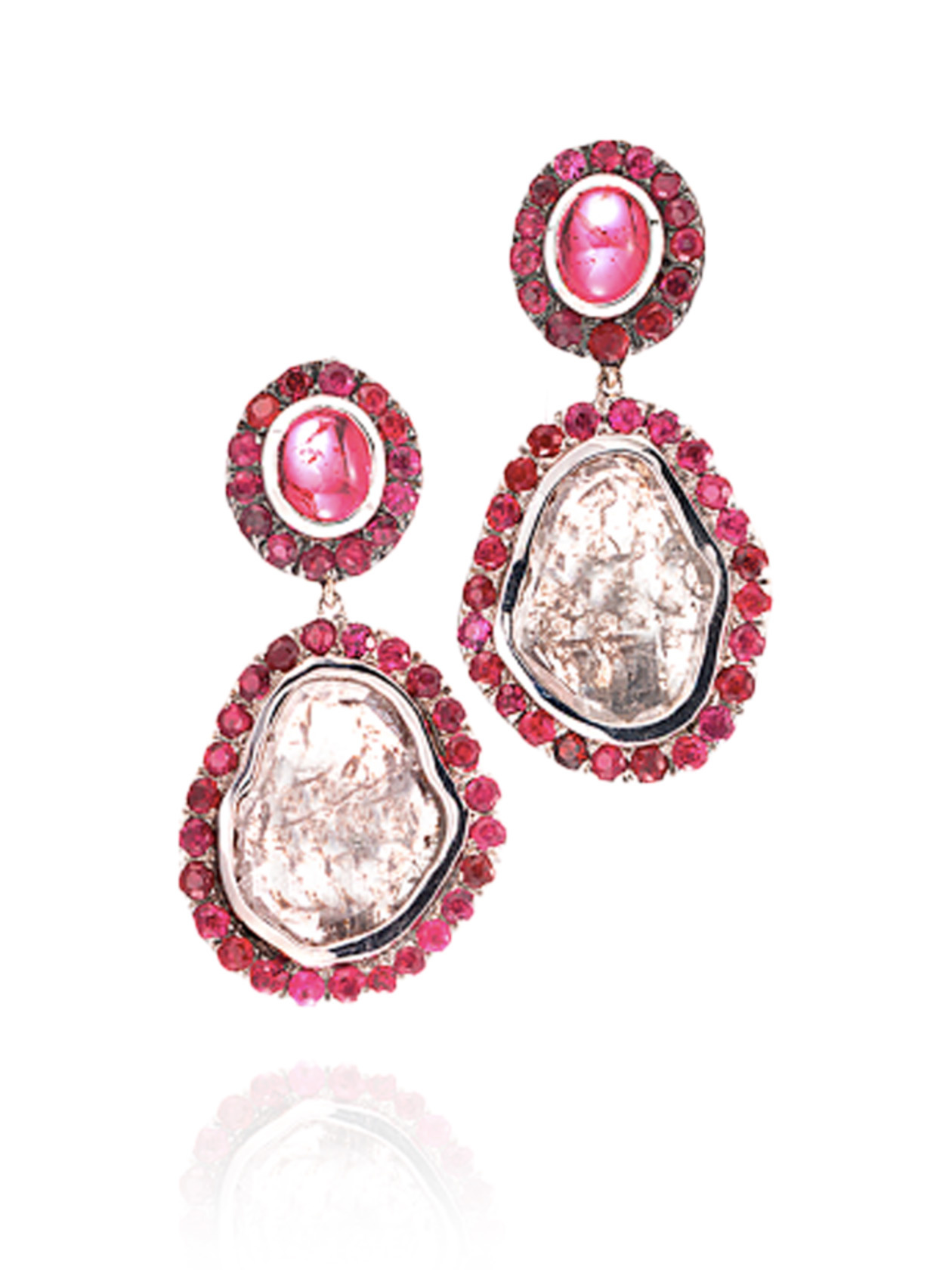 The deep red hues of ruby make them unmistakably beautiful. And, with their rarity and value, they're a sought-after gemstone to feature in jewelry. However, rubies aren't the only red gemstone produced by mother nature. While it remains the most important gemstone created by God, according to Judeo-Christians, there are many breathtaking red gemstones, including spinel, rubellite, carnelian, and garnet.
Our
Diamond Slice, Spinel, and Ruby Earrings
elegantly blend both spinel and ruby to draw out each of the stone's spectacular shades. While spinel may look similar to ruby, several notable differences separate the two gemstones, namely color and clarity. Unlike rubies, spinel tends to be bright red with pink hues. While rubies reflect a fluorescence that can look slightly blue, spinel is characterized by the subtle red glow it possesses. In terms of clarity, ruby is known to contain inclusions, which are considered integral to their natural beauty. In contrast, spinel tends to be highly transparent with fewer inclusions.
Once versed in the differences between ruby and spinel, one can effortlessly differentiate the two and appreciate our ability to seamlessly combine them in our designs. Combining the clarity and glow of spinel with the deep red hues and fluorescence of ruby, our Diamond Slice, Spinel, and Ruby Earrings showcase Ann Ziff's eye for designing and selecting precious gemstones.
Ruby and Pink Sapphire Ring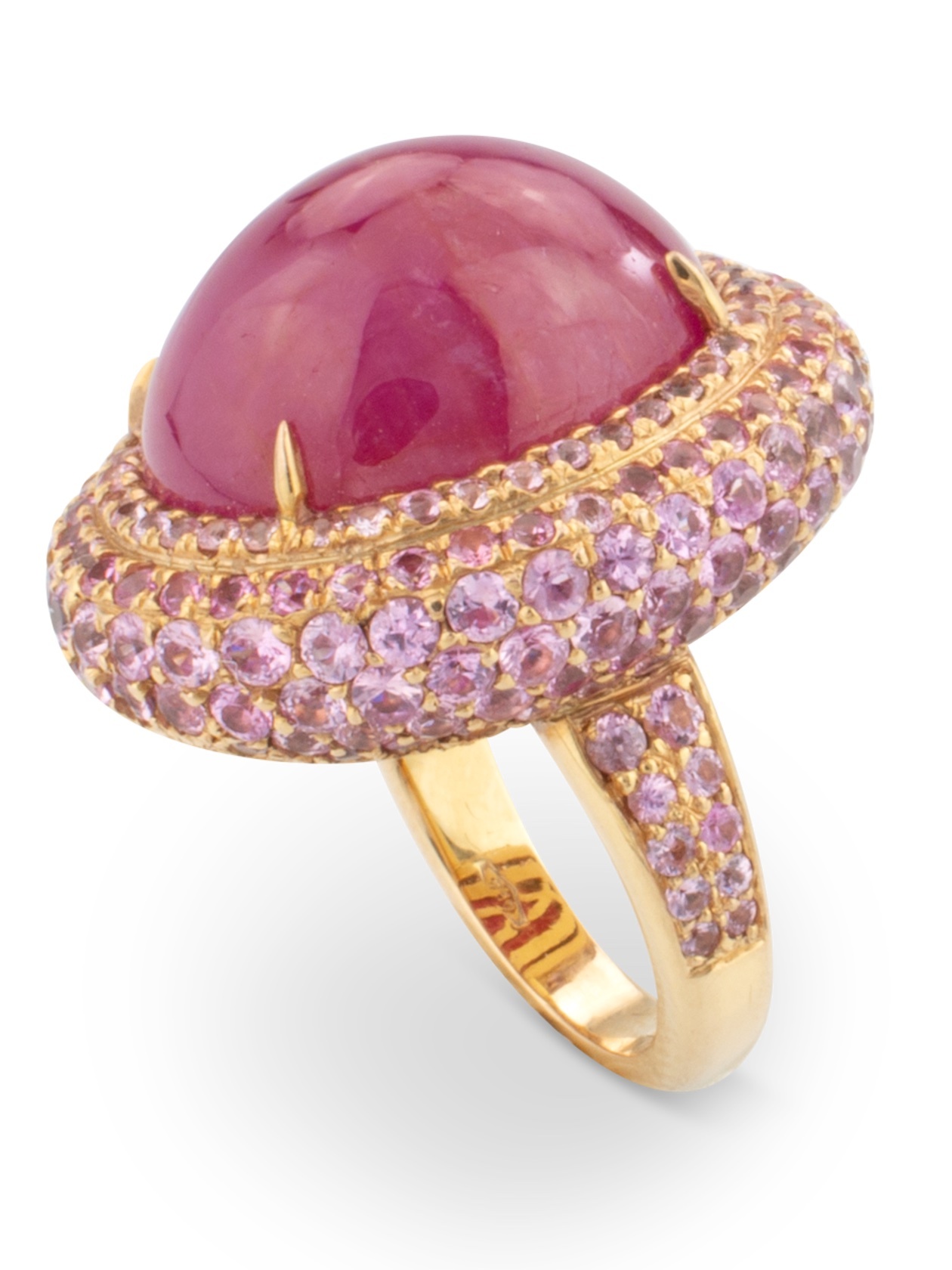 Rubies can also be found in a polished, rounded shape called cabochon. Cabochons are characterized by the fact that they possess no facets, but rather showcase a polished and rounded surface. The cabochon cut is known to highlight the ruby's natural beauty and magnificent color. They are also typically used to reveal the ruby's star. Star rubies are very rare, making them some of the most coveted rubies. Ruby stars are formed by crystal structures and inclusions present within the gemstone.
Our
Ruby and Pink Sapphire Ring
boasts an impressive 28.10 carat cabochon cut ruby. Certified natural, this gemstone epitomizes the innate beauty of nature's abundance. Surrounded by the tenderness of pink sapphires, the richness of the ruby's red hue shines through.
Interestingly, there is some disagreement between what generally constitutes a ruby and a pink sapphire. Scientifically, rubies and sapphires are both varieties of corundum. The single difference between the two is color. Rubies are classified as the red variety of corundum, while all other color varieties are classified as sapphires. The divisions and disagreement arise as the shades of pink sapphire shift to deeper hues of pink, such as magenta.
At Tamsen Z, we've artfully united ruby and pink sapphires to create a brilliant contrast, marrying what is unarguably deep red ruby with delicate pink sapphires.
Ruby, Sapphire, and Rubellite Earrings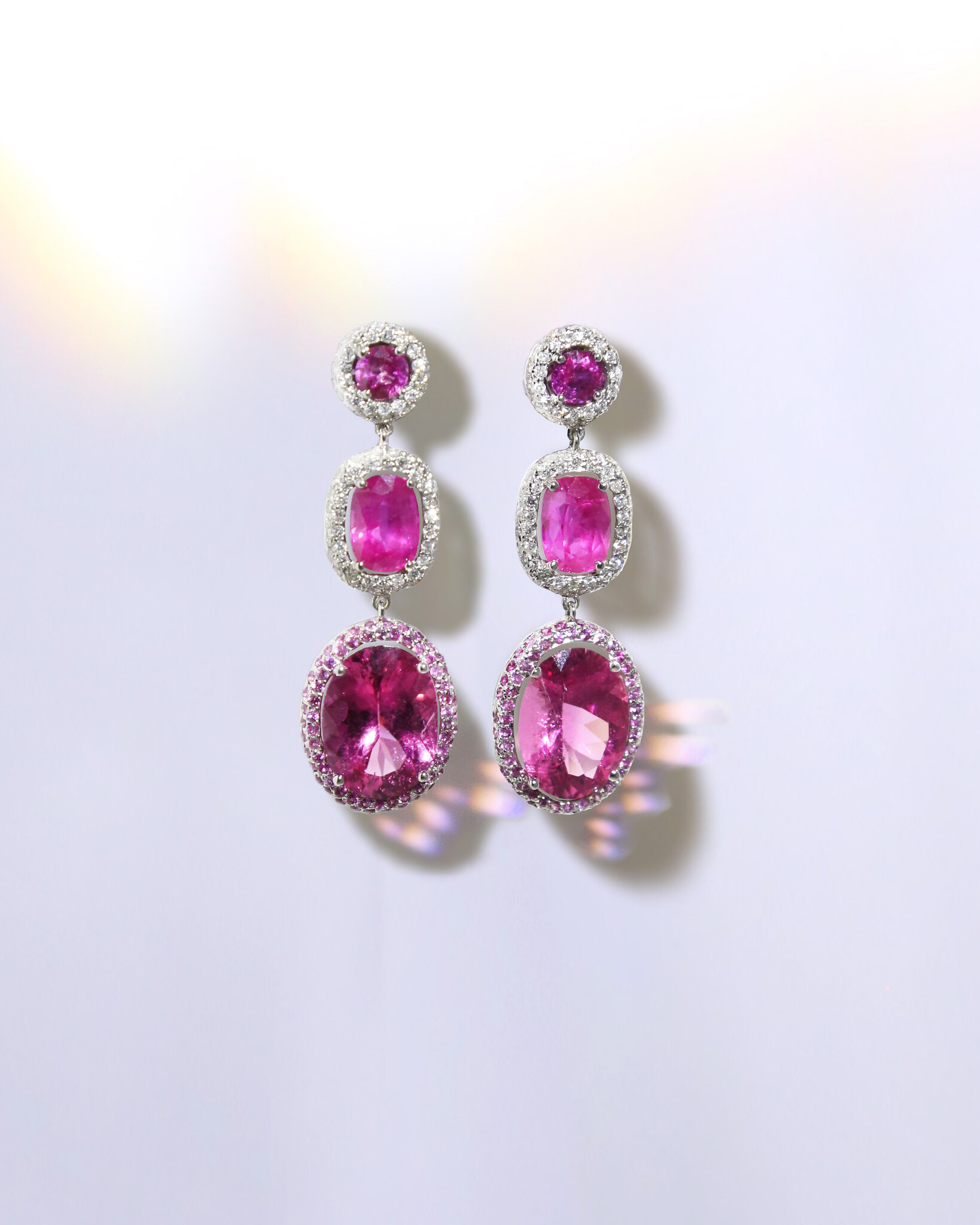 Rubellite, known as the most precious and beautiful variety of tourmaline, is often confused with ruby. The similarities in the name rubellite to ruby, lends to the uncertainty in differentiating the two gemstones. 
Rubellite is characterized by its stunning red color that often appears violet in hue. While ruby appears deep red in color, the violet hues of rubellite are easily recognizable and artfully used by Ann Ziff to compliment the ruby. Similarly, the inclusions found in rubies vary significantly from those seen in rubellite. Ruby inclusions appear fine and needle-like, unlike rubellite inclusions which tend to display a unique weblike pattern. 
Our
Ruby, Sapphire, and Rubellite Earrings
combine the deep red hues of rubies with the stunning violet tones of rubellite that are so highly sought after. Displaying a vivid array of shades, these earrings elegantly fuse diamonds with pink sapphires, rubies, and rubellites for a finished result that glows from within.
Conclusion
Ruby gemstones possess a history and symbolism that has led to an enduring significance that remains today. Respected, collected, and traded by ancient societies, the value that rubies hold is undeniable. Transcending cultures and religions, rubies are regarded as one of the most precious gemstones in nature. Symbolizing beauty, health, wealth, wisdom, and success in love, rubies are the ideal gemstone for jewelry.
Held near to its wearer at all times, the power of rubies is undeniable. And, their beauty as displayed in Ann Ziff's designs, demonstrates their ability to glow and exude sophistication. At Tamsen Z, maintaining the integrity of gemstones and displaying their natural beauty, inclusions and all, is at the heart of each of our designs. Discover our spectacular collection-quality ruby jewelry designs, as imagined by Ann Ziff.