Pearls: Marine Life's Most Treasured Creation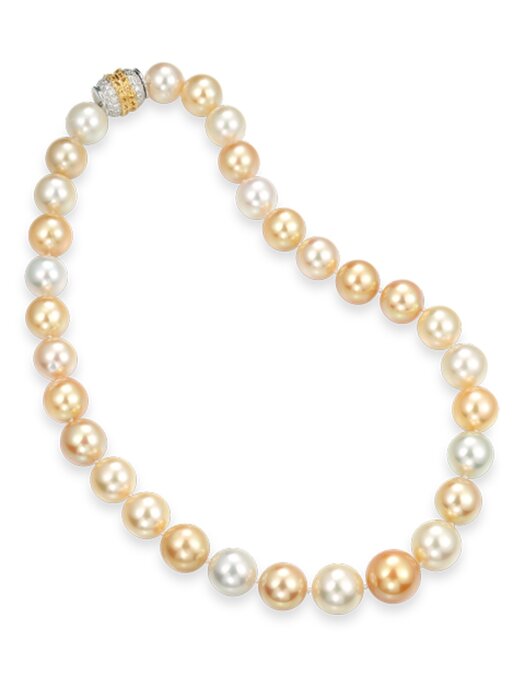 Unlike most other gemstones, pearls are made by marine oysters and freshwater mussels, rather than mined from rock or soil. Pearls can be found in both the ocean or other sources of saltwater, as well as freshwater ponds and rivers. This unusual creation means that pearls are an organic product of the mollusk that is built over time. 
The creation of pearls is nothing short of a miracle. What makes a pearl one of the most precious gems ever discovered is the fact that not every mollusk can produce a pearl. Essentially, pearls are created if and only if an irritant enters the mollusk. This could be a particle of sand or an organism. As an act of defense, the mollusk releases a crystalline substance called nacre, which builds slowly in layers over time until it becomes a pearl. This process can take anywhere from 6 months to over a decade, depending on the size of the pearl. 
The creation of pearls has long been treasured and revered as one of nature's most precious creations. And, though its origins can't be traced back fully, it is believed that they were first discovered by humans that were searching for food along the shorelines. Although we can't be sure when humans decided pearls would look stunning in jewelry, historians suggest that human's love of pearls dates back to before Christ. From pearls being found in an ancient Persian sarcophagus to the ancient Romans wearing pearls as a symbol of status. It's clear that throughout history, pearls have been appreciated for their natural beauty and magnificent luster.
But, they weren't just worn as jewelry. Their value has long been recognized, with the ancient Romans using pearls as a commodity for trade. In fact, some of today's thriving cities have pearls to thank for their early boom. The largest pearl deposits at the time were found in the South Chinese Sea and along the Persian Gulf. These pearls created a booming industry in the middle east, with Abu Dhabi and Dubai becoming the main pearl diving cities, both of which remain thriving metropolitan cities today.
Today, pearls remain a popular gemstone for jewelry. Elegant, classy, and timeless, you can't go wrong with a set of pearls. Be it earrings, a necklace, or a bracelet, there is no gemstone with a richer history or origin than the pearl. Known as the Queen of gemstones, pearls are available in a variety of colors. From cream to gold, silver, blue, green, lavender, pink, and even black. At Tamsen Z, our selection of pearl jewelry pieces consists of pearl necklaces, bracelets, and earrings featured in Ann Ziff's breathtaking designs. 
Conch Pearl and Diamond Bracelet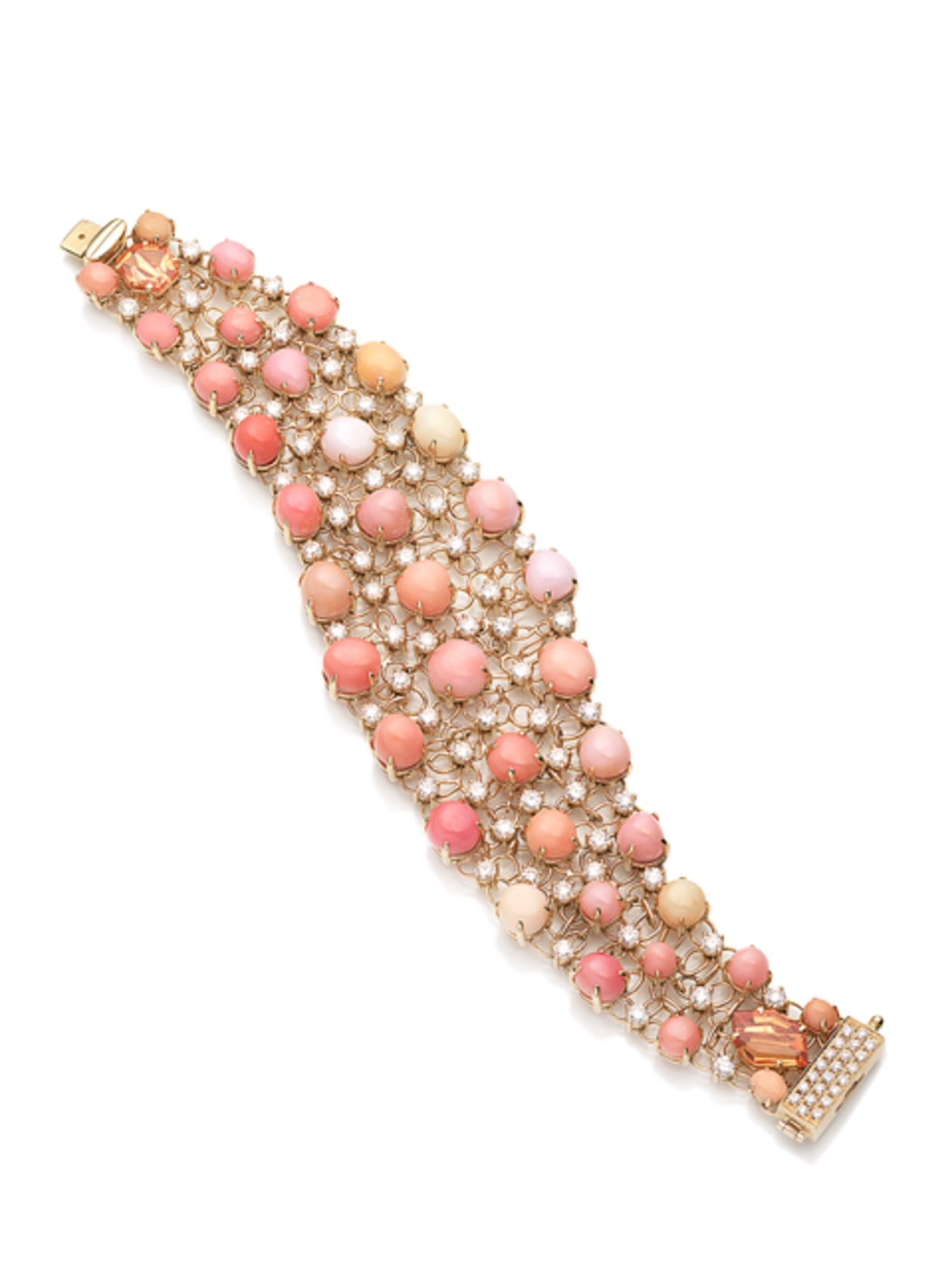 Conch pearls are as dreamy as they are rare. Easily recognizable, conch pearls are known for their beautiful hues of pastel pink and rosy peach. Conch pearls are found in the Caribbean and are produced by the queen conch mollusk. 
Conch pearls are far from ordinary. Their rarity is great with fewer than one conch pearl found in every 10,000-20,000 conch's, of which only 10% are found to be gemstone quality. They also differ from oyster made pearls in that they're not made of the same nacerous substance. Conch pearls are made from a calcareous concentration that builds up within a sac inside the conch. Due to the nature of the conch mollusk, conch pearls are typically only discovered when the queen conch is harvested for meat. 

The genuine scarcity of conch pearls makes them a magical and exclusive addition to any jewelry collection. At Tamsen Z, our collection includes this stunning Conch Pearl and Diamond Bracelet. Containing 36 rare conch pearls in a sunset 
of pink and peach hues, this bracelet is  set in yellow gold and paired with diamonds to elevate its warmth.
South Sea Baroque Pearls and Blue-Green Tourmaline Earrings
Baroque South Sea pearls come in astonishingly large sizes, making them the ideal centerpiece for pendants and dangling earrings. This large size is due in large part to the size of oysters that are found in the south sea. South Sea oysters are significantly larger than oysters from other regions, meaning they're able to produce large baroque pearls. Baroque pearls are known for their irregular shapes. Their irregular shape highlights their natural beauty and allows them to reflect light from all angles. 
Today, baroque pearls are recognized as one of the most fashion-forward gemstones to use in jewelry. At Tamsen Z, we've always prioritized highlighting the natural beauty of the gemstones we use and preserving them in their most raw and natural state. Our
South Sea Baroque Pearls and Blue-Green Tourmaline Earrings
are no exception. Featuring 9.54 carats of sea inspired blue-green tourmaline, the baroque pearls shine and reflect the most subtle hint of blue-green.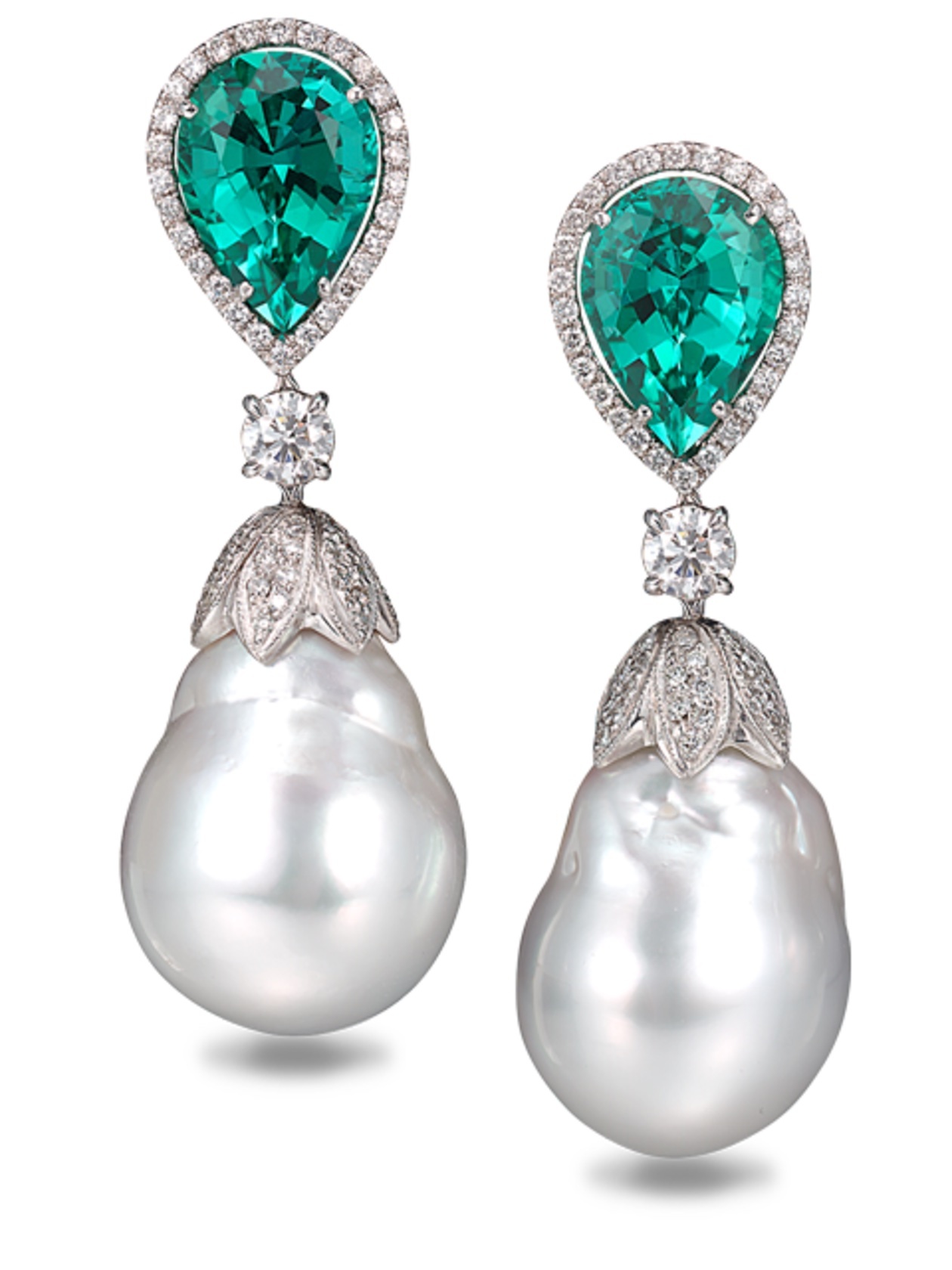 Multi Color Gold South Sea Pearl Necklace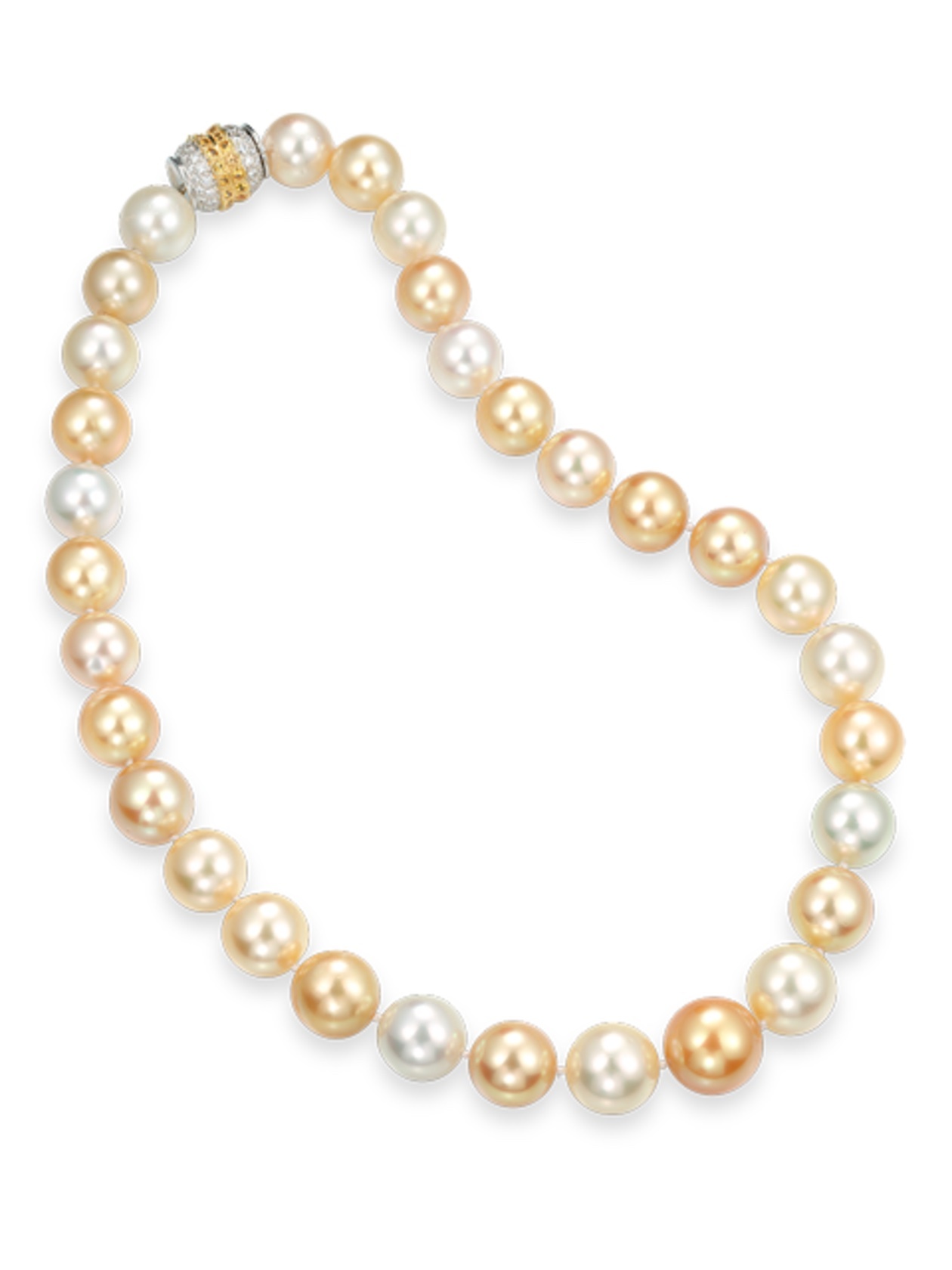 South Sea golden pearls are known for their warm yellow-gold hues. Available in a range of colors, golden south sea pearls can appear creamy like champagne or deep gold, and anything in between. Hailing from Indonesia and the Philippines, South Sea golden pearls receive their color based on the color of the oysters lip. Simply by looking at the oysters lip, one can determine what color the pearl it produces will be. Despite hailing from the South Sea, Golden South Sea pearls tend to be significantly smaller than the white baroque pearls found in the South Sea. Still, they remain impressive due to their warm luster and rich golden hues.
At Tamsen Z, our collection of pearls includes this one of a kind Multi Color Gold South Sea Pearl Necklace. With colors ranging from ivory to champagne and a deep yellow gold. Accentuated with diamonds and yellow sapphires, this necklace exudes sophistication and a sense of timeless elegance. To achieve a distinct twist on the classic strand of pearls, discover  our Multi Color Gold South Sea Pearl Necklace, timeless and yet daring.  
Tahitian Silver Pearls and Emerald, Aquamarine, and Diamond Bead Necklace
Tahitian pearls, perhaps the most unique colorway of pearls to exist. And, when valuing Tahitian pearls, color becomes the primary determinant of its value. Ranging in hues from aubergine to cherry, green, silver, and even black, Tahitian pearls possess a
special ability to shift color from each angle it is viewed. Typically the pearl will have a main color, such as silver, followed by a multitude of reflective
overtones. While all Tahitian pearls are valuable, those with green reflective tones are the most sought after. 
Once a favorite of ancient royalty, Tahitian pearls were considered to be the "pearl of queens." Today, they remain sought after for their distinctive colors. Our
Tahitian Silver Pearls and Emerald, Aquamarine, and Diamond Bead Necklace
uses Tahitian pearls and gemstones to deliver a piece integral to the Tamsen Z brand. Daring, unique, and unparalleled. These silver colored Tahitian pearls reflect an impressive blue-green overtone, and Ann Ziff's use of aquamarine and emerald perfectly draws out their natural beauty.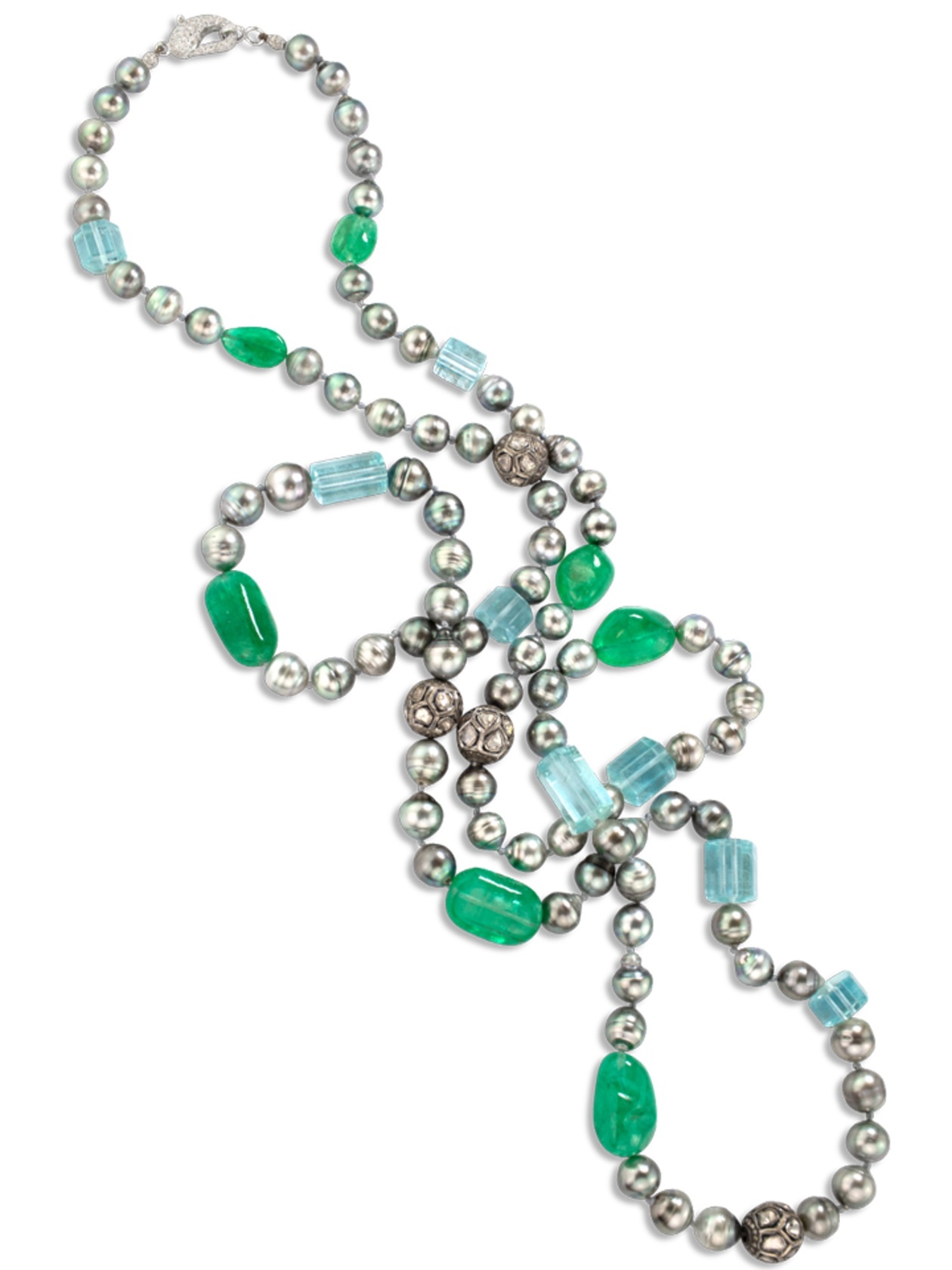 Baroque Pearl and Aquamarine Earrings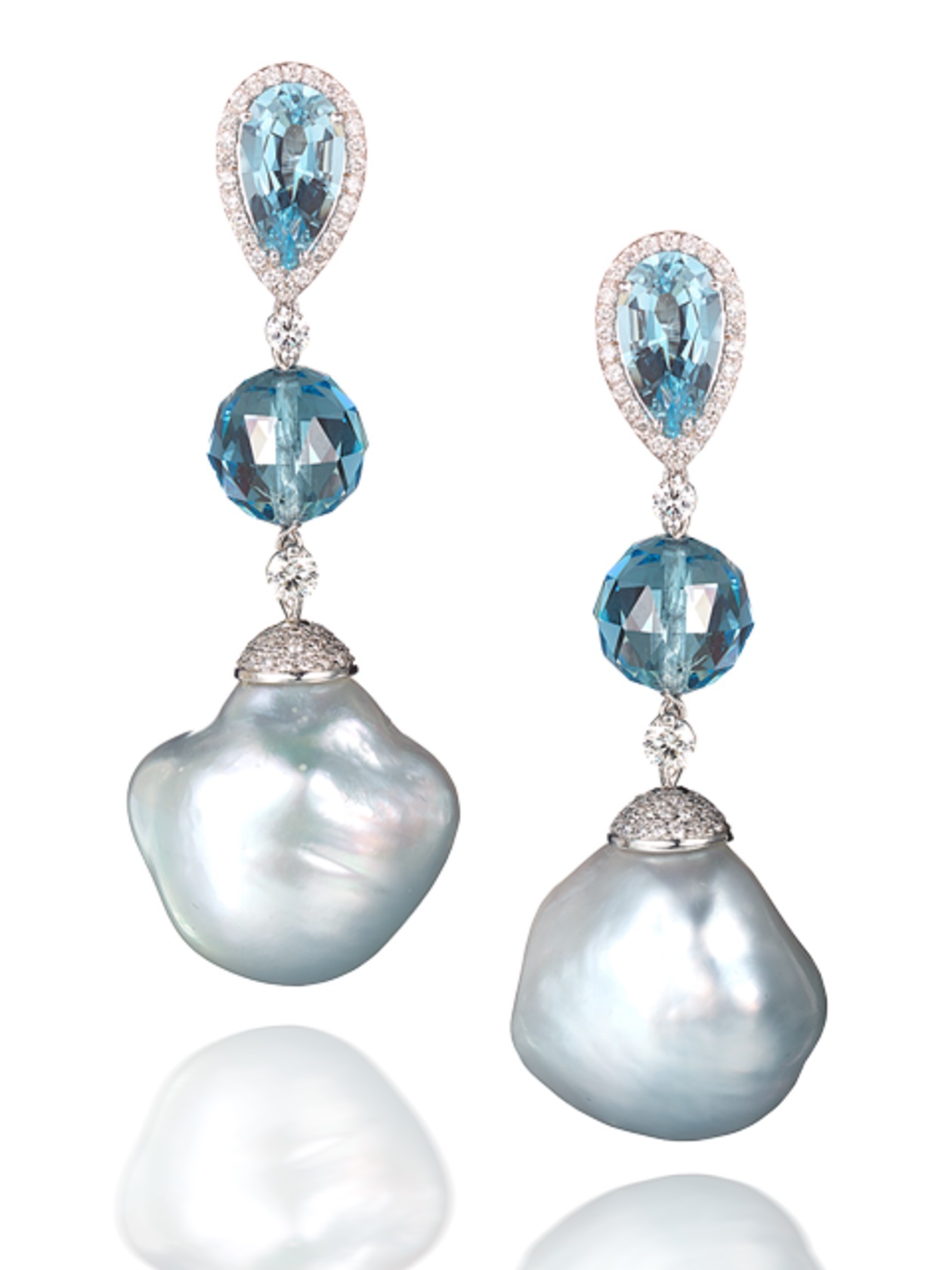 Behold the natural blue baroque pearl. Natural blue baroque pearls were once thought to be rejects. In early times, they were ground up and used in ancient Japanese medicines. Today, they're recognized for their rarity in nature, with pearl divers and farmers everywhere attempting to replicate their natural blue hues. The natural blue hue remains somewhat of a mystery. Some hypothesize that the blue hues are a result of an illness of the mollusk. However, the exact cause remains unsure. One thing that is for certain, blue baroque pearls, especially ones of high-quality, are exceedingly rare making them a highly valuable gemstone.
Our
Baroque Pearl and Aquamarine Earrings
feature two breathtaking natural blue baroque pearls. Paired with aquamarine, the natural beauty of the pearls is drawn out, displaying its vibrant hues of pale blue. With the aquamarine regarded as the gemstone of the sea, there is perhaps no better pairing than the natural blue baroque pearl and the aquamarine. 
Conclusion
The history and origins of pearls remains just as magical today as it was when they were first discovered. And, with their early appreciation as a valuable commodity for trade, use in jewelry, and a prized treasure of royals, their history remains as rich as the hues they reflect. 
At Tamsen Z, the DNA of our brand lies in highlighting the natural beauty of gemstones. The use of pearls, the most organic and natural gemstone there is, is something we've intentionally chosen as an appropriate representation of our brand. Timeless, classic, elegant, and yet daring. Unique pearls, such as the Tahitian pearls, conch pearls, and baroque blue pearls take the classic white round pearl and transform it into something exclusive and one of a kind. Discover our selection of incredible pearls set alongside gemstones that highlight their excellence in distinctly Tamsen Z designs.