Moonstones: The Goddess Crystal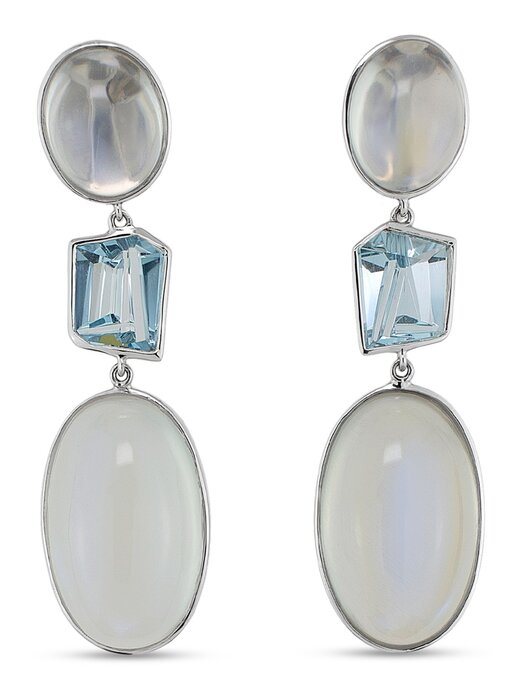 The moonstone crystal is named for its likeness to the moon, which is characterized by an enchanting pearly sheen that captures and reflects light. Ethereal and dynamic, moonstone crystals have a unique ability to appear as if they are in constant motion - dancing in the light.
Moonstones are the result of the formation of two feldspar minerals, orthoclase and albite. During formation, the two minerals are intertwined before separating into stacked alternating layers that produce the glowy phenomenon known as adularescence, or the Schiller effect. Adularescence is best described as a lustrous glowy appearance below the surface of the stone that occurs when introduced to light.
Moonstone crystals can be found in a variety of colors, including colorless, peach, blue, green, grey, brown, white, yellow, and even rainbow. The rainbow variety of moonstone is a crossbreed between moonstone and labradorite, creating some confusion in identifying the gemstone. The most valuable moonstone crystals are those that are clear or translucent with a rich blue sheen that makes the stone appear as if it is glowing from within. Moonstone crystals are primarily found in Sri Lanka and Southern India, though they can also be found in the United States, Australia, Mexico, Brazil, and Madagascar. 
Historical Significance and Moonstone Meanings
Moonstone crystals have long been admired for their association with lunar deities. Aptly named, the ancient Romans had believed that the stone was formed from frozen moonlight. At the time, it was believed that the stones' luminous quality was a result of the shifting phases of the moon. Ancient Romans also linked the stone to the Moon Goddess Diana and believed that it held the ability to attract love, success, and wealth.
In ancient Greece, the moonstone crystal was named Aphroselene and was associated with two deities. Aphrodite, the goddess of love and Selene, the goddess of the moon, were combined to create the name Aphroselene. Known as the goddess crystal, they believed that the stone had magic abilities that encouraged both fertility and feminine energy.
In India, moonstone crystals share deep roots with Hindu mythology. With the belief that moonstones are made from the moon's ethereal light, the stone was known as the "dream stone" and was thought to bring peaceful rest and beautiful dreams at night. It was also believed to bring good luck in love, remaining a popular wedding gift in India to this day. 
Modern day moonstone meanings focus on feminine energy, intuition, balance, and new beginnings. It is also known as the second birthstone for the month of September, inviting those born in this month to benefit from its lunar abilities. As a strong symbol of feminine energy, the moonstone crystal is thought to help with fertility, inner healing, and connection with one's higher self. As a lunar stone, the moonstone is thought to help balance emotions and help one 'go with the flow', just as the moon's gravitational pull directs the ocean's tide. 
The moonstone crystal's historical significance and divine feminine meanings make it a popular choice for use in jewelry. Worn and held near, wearers of the stone can harness its powers and benefit from its lunar abilities. Ann Ziff's high-jewelry moonstone designs skillfully highlight the stone's natural beauty and divine femininity. 
Moonstone and Tanzanite Bracelet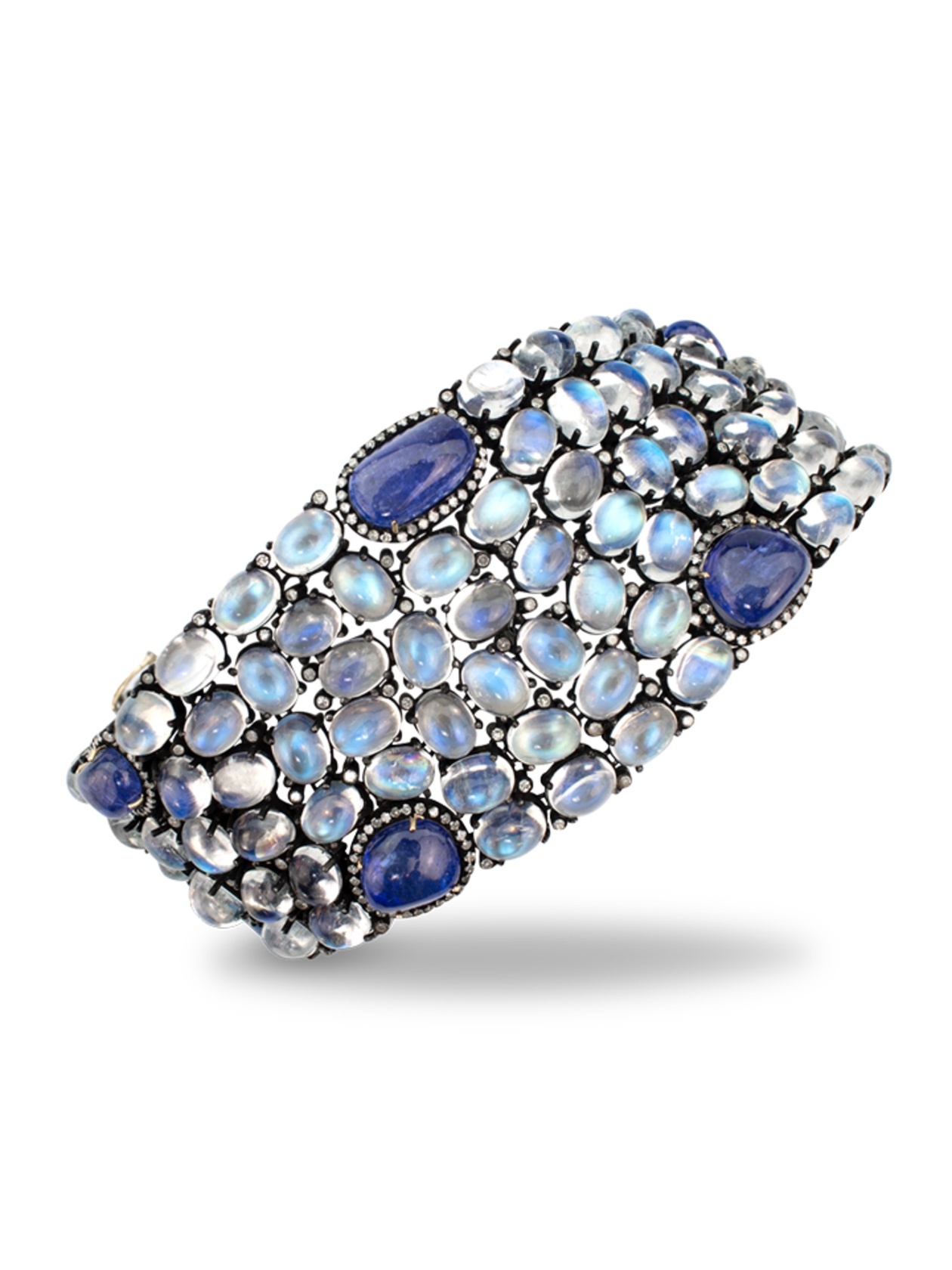 Opalescent in nature, blue moonstones are among the most prized and sought after feldspar minerals. Characterized by a strong blue color that floats on the surface of the transparent stone, they're typically found in cabochon cuts to maximize their adularescence. The exaggerated lunar-like glow is thought to be healing and emotionally soothing. 
Our Moonstone and Tanzanite Bracelet combines 137.88 carats of stunning transparent blue moonstones with 51.81 carats of tanzanites that are surrounded by a halo of grey diamonds. The rich violet-blue hues of the tanzanite draw out the blue adularescence of this breathtaking moonstone bracelet. Known for their ability to facilitate intuition and calm its wearer, tanzanites pair flawlessly with the moonstone crystal. Lunar and yet marine-like, this moonstone bracelet appears as if it's in constant motion, with waves of blue adularescence alongside the tanzanite's ultramarine hues. 
Silver Moonstone and Diamond Necklace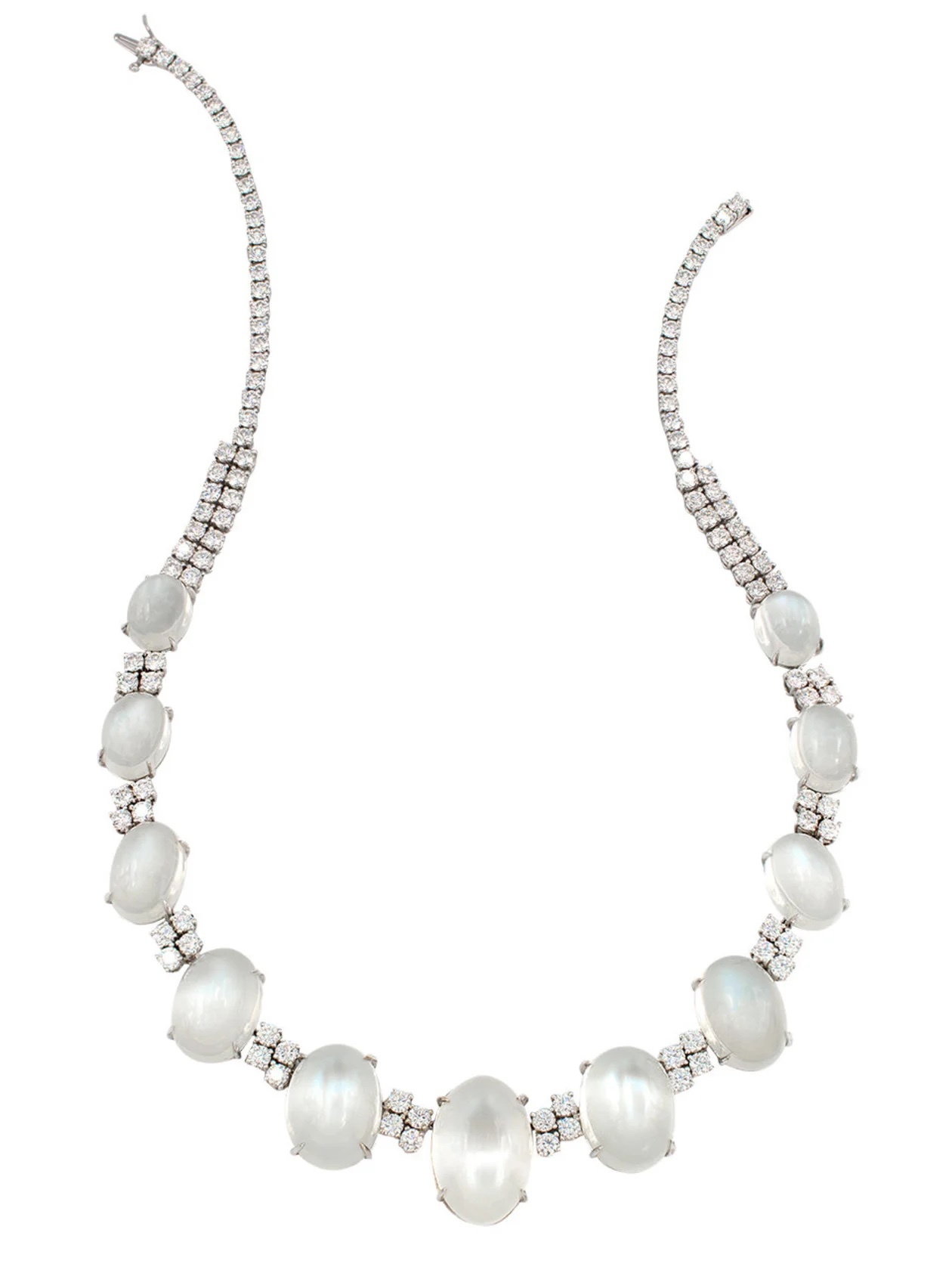 Silver moonstones exhibit a silvery grey color that surfaces the stone. Known as the 'stone of the new moon', silver moonstones are believed to possess the powers of the new lunar cycle. This connection to the new lunar cycle makes the silver moonstone representative of rejuvenation and new beginnings.
Our Silver Moonstone and Diamond Necklace combines 143.96 carats of silver moonstone with 17.74 carats of white diamond. Silver moonstones appear pearl-like in nature with a more opaque look than their translucent counterparts, making them ideal for contrasting alongside brilliant white diamonds. Invite fresh energy and new beginnings with a moonstone necklace that exudes timeless elegance. 
Moonstone and Lavender Spinel Earrings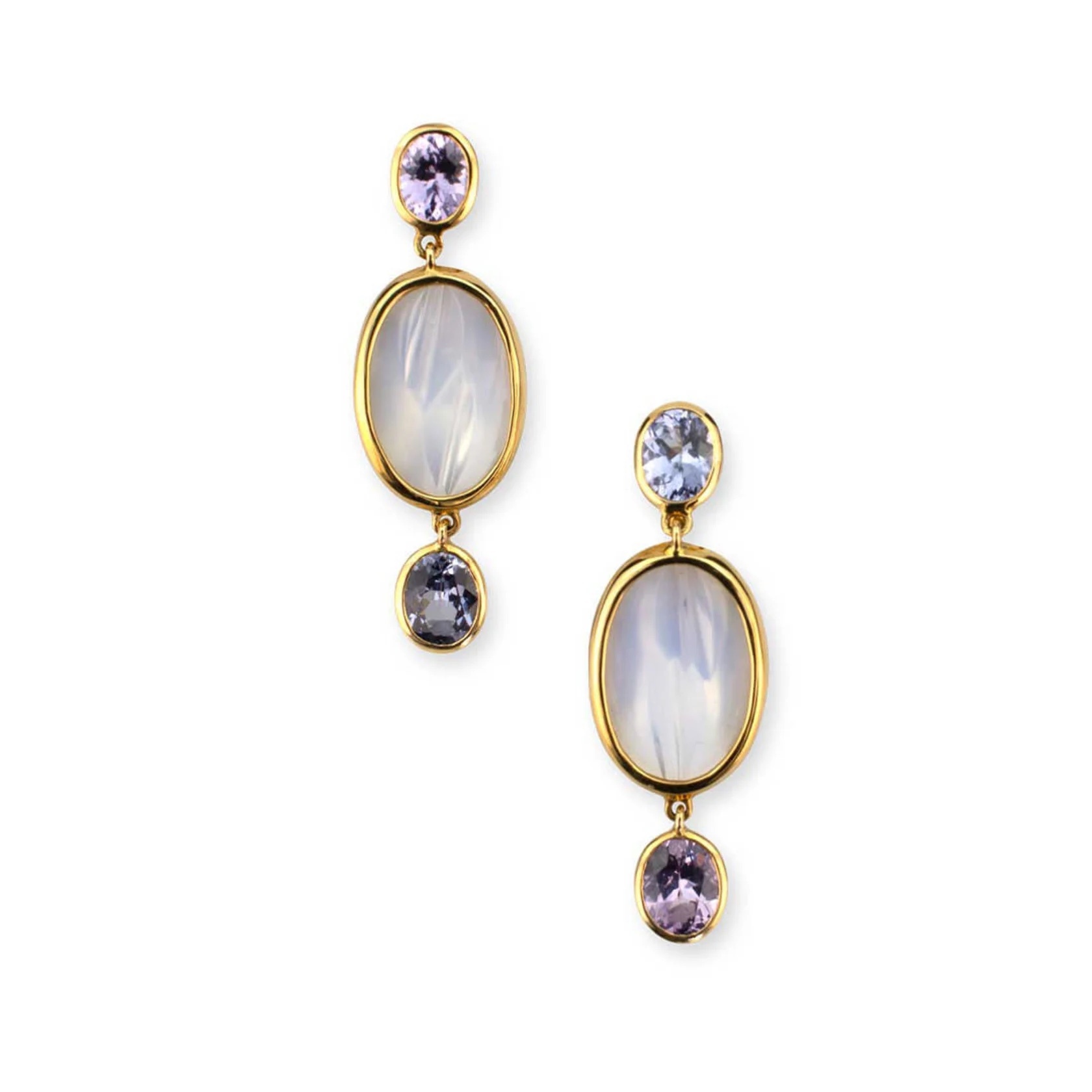 Captivating and unexpected, Atelier Munsteiner has revolutionized the design of gemstones with their counter-norm 'Munsteiner cuts.' While the typical brilliant cut gemstone focuses on superficial shine and remains the most globally prevalent, Munsteiner's radical opposition and precision cuts focus on the gemstone's inner workings, highlighting its natural beauty and revealing what would be otherwise unknown. Munsteiner cut gemstones typically focus on clear gemstones, as they allow for the greatest reflection of light. 
Our Moonstone and Lavender Spinel Earrings combine 11.23 carats of Munsteiner cut moonstones with 3.76 carats of lavender spinel set in 18K yellow gold. These avant-garde moonstone earrings showcase exceptional Munsteiner cut moonstones, revealing a pearly and dynamic movement of adularescence.
Silver Moonstone Ring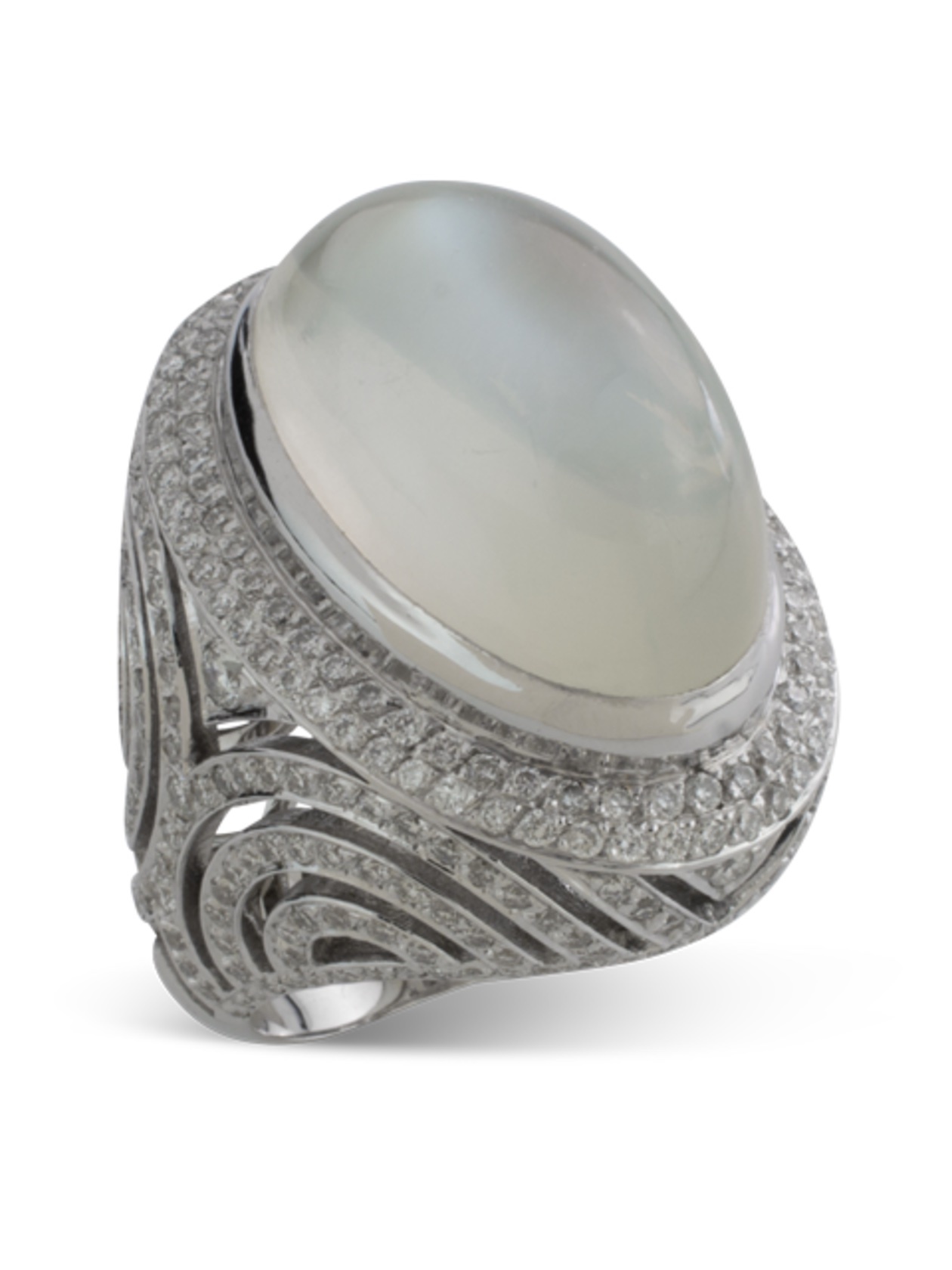 On occasion, moonstone crystals are found to possess a characteristic known as chatoyance. Originating from the French word chatoyer, meaning to shimmer, it refers to the unique optical effect on the surface of the moonstone that closely resembles the slit of a cat's eye. The cat's eye effect is accentuated by the cabochon cut of the moonstone. Cat's eye moonstones are known to possess distinct metaphysical properties to their wearer, including clarity of mind and emotional insight.
Our Silver Moonstone Ring showcases a spectacular 24.53 carat silver moonstone that playfully displays a chatoyance effect that shifts and shimmers in the light. Surrounded by 3 carats of pave diamonds, this moonstone ring is as bright and brilliant as moonlight. 
Moonstone and Diamond Earrings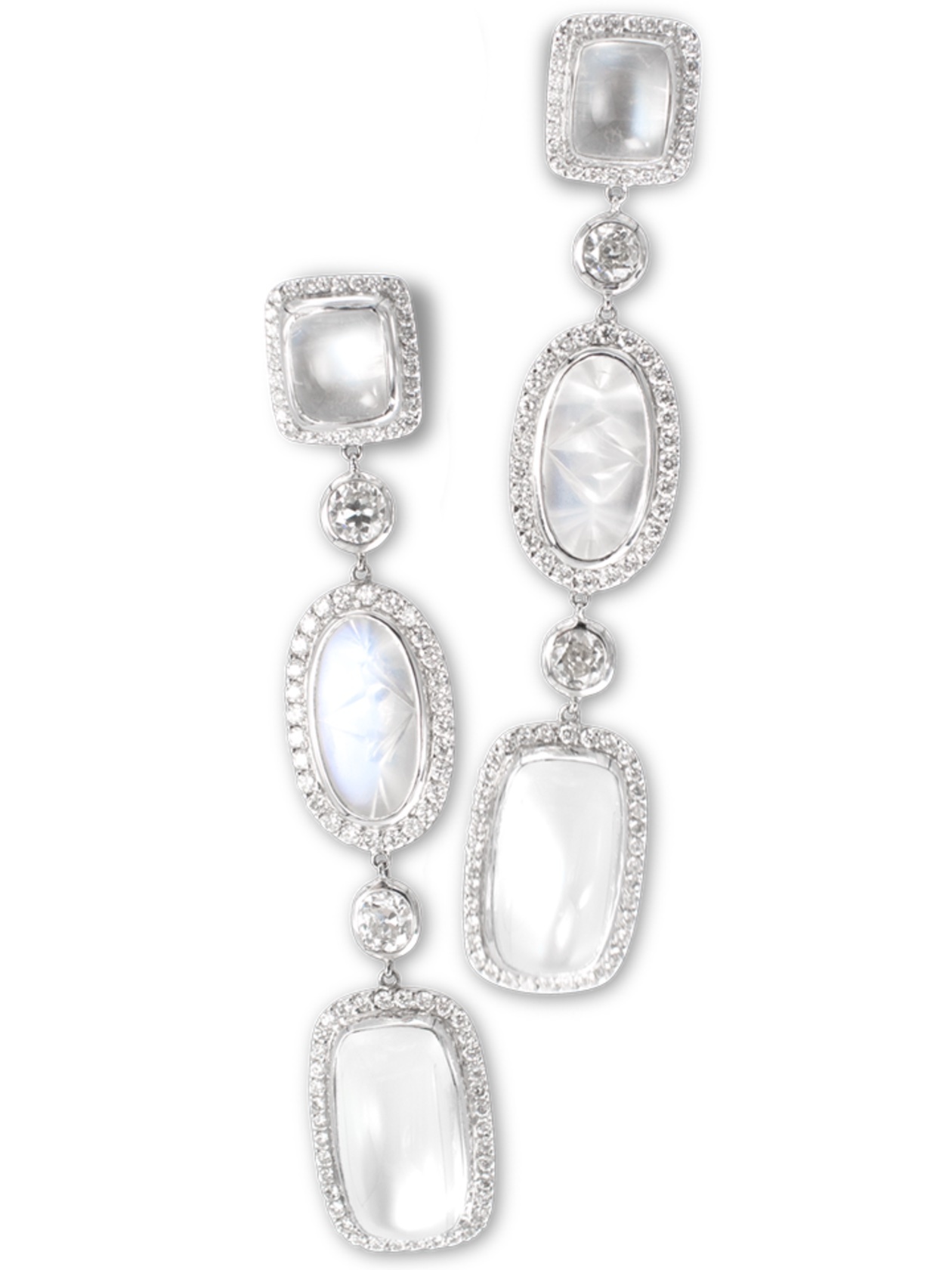 Incredibly transparent moonstone crystals are both challenging to source and incredibly valuable. Moonstones are known to be characteristically milky and included. Though this milky opacity is naturally beautiful in its own right, perfectly transparent moonstones with bright luminescence are the most highly sought after.
Our Moonstone and Diamond Earrings combine three unique cabochon cut moonstones totalling 39.45 carats with 5.03 carats of brilliant white diamonds and diamond pave. In true Atelier Munsteiner fashion, these moonstone earrings feature expert carving and polishing that highlight the stone's exceptional transparency and adularescence.
Conclusion
Moonstone crystals, as their name would suggest, have become synonymous with their lunar associations and distinct metaphysical properties. The moonstone's feldspar formation allows it to possess a unique adularescence effect that is easily identifiable. This playful optical effect makes the moonstones one of nature's most dynamic stones, allowing them to have the appearance of being in constant motion. As the lunar gemstone, the moonstone crystal has been tied to several goddesses and deities throughout history. As a symbol of feminine power, fertility, emotional inner healing, and connection with one's intuition, moonstones have become a popular choice for use in jewelry.
At Tamsen Z, our use of moonstone crystals in our jewelry demonstrates our passion for exceptional gemstones and elevated designs. Our collection includes the highest quality moonstones in rare transparent, blue, and silver hues with eye-catching cat's eyes and expertly cut Atelier Munsteiner designs. Ann Ziff's moonstone creations are a testament to her passion for gemstones and commitment to pushing the boundaries of high jewelry.