Cufflinks for Men: A History of Elegance and Tradition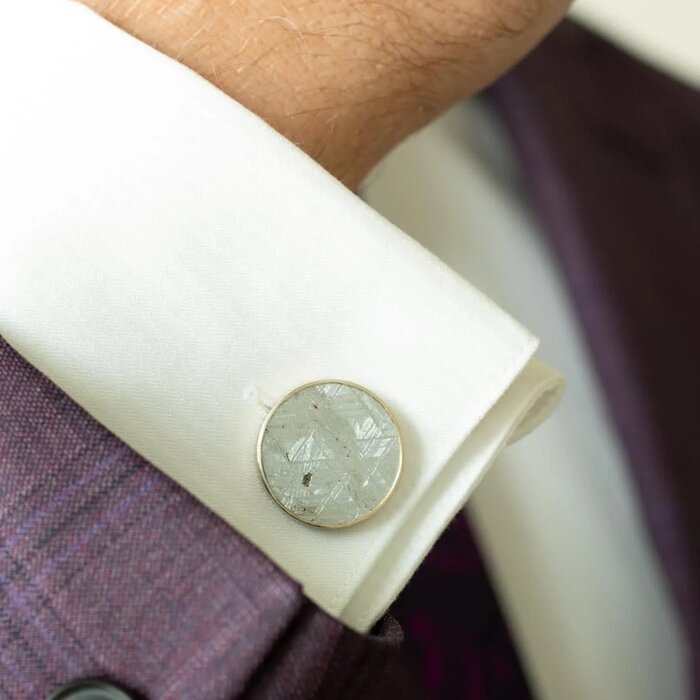 The history of cufflinks runs deep in menswear, dating back centuries, making them a timeless gift and certainly one worth investing in. Before we delve into some of our favorite cufflinks from Tamsen Z, it's essential we understand the history and significance of cufflinks to truly appreciate how exceptional they are. 
Beginning in the 17th century, cufflinks became popularized by King Louis XIV, during his reign of France. Initially, dress shirts were regarded as a type of undergarment that was not meant to be seen. However, as times began to change, showing off the cuff of your dress shirt gained popularity. The original cufflink consisted of a simple ribbon used to link the two cuffs. This ribbon later became buttons. Worn by both men and women, the button cufflinks were often customized with colorful and unique paintings. It was also common to have the faces of loved ones painted on the small button cufflinks. Today, cufflinks for men continue to act as an important symbol in gentleman's dressing, with higher-end designs symbolizing the wearer's personality and strength, while showcasing their virile in a subtle and distinguished way.  
At Tamsen Z, our selection of cufflinks features unique Tamsen Z designs with our signature use of rare and challenging-to-source stones and metals. Classy, masculine, and significant. As Father's Day and Party season approaches, consider growing your collection with a pair of one-of-a-kind cufflinks.
Fossilized Tree Fern Cufflinks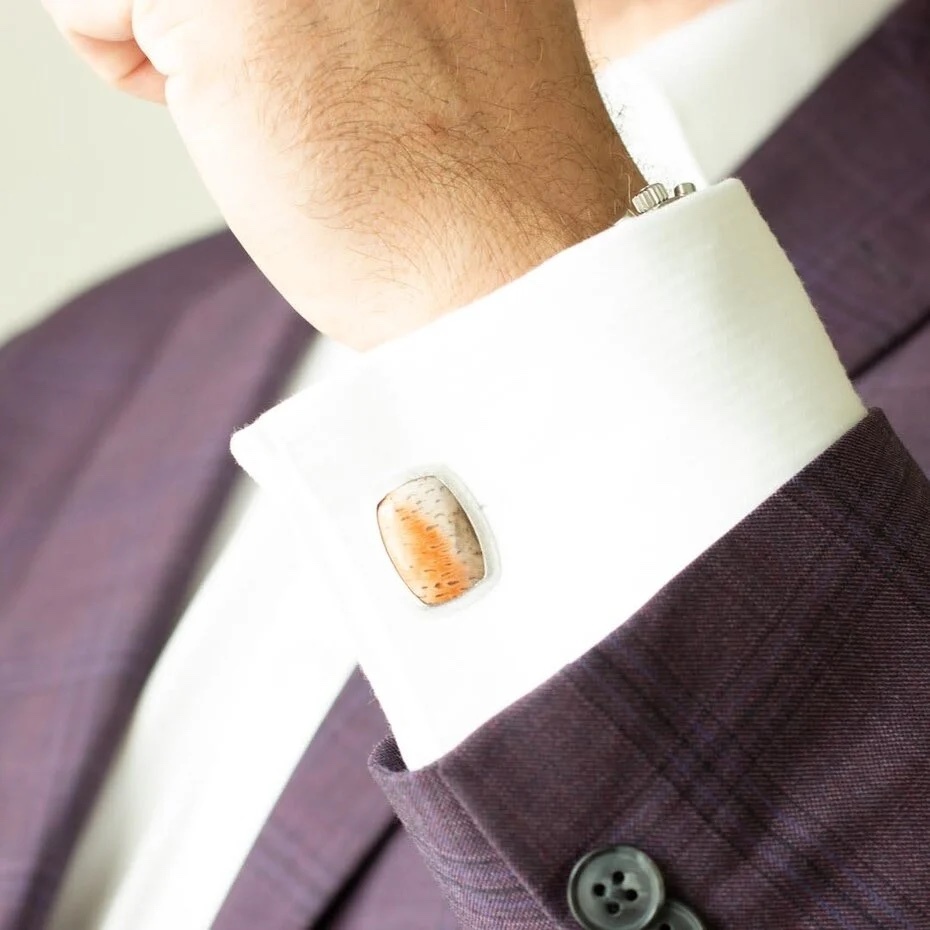 There's something so gentlemanlike about fossilized wood. Both unexpected and elegant, fossilized wood has a deep history and significance. Formed through a process which involves the wood being buried deep into the soil and absorbing minerals until hardened, fossilized wood boasts a rarity that makes it an exceptional stone for men's cufflinks. 
Beyond its rarity, fossilized wood is the ideal stone for cufflinks for men, due to its symbolic meaning and significance. Fossilized wood is believed to assist in setting oneself up for good fortune, offering stability, security, longevity, and wisdom. For the businessman that spends his days shaking hands, cufflinks are an essential investment. And, with Tamsen Z's rare and unique
fossilized tree fern cufflinks
, they boast properties conducive to business ventures.
Smoky Quartz Cufflinks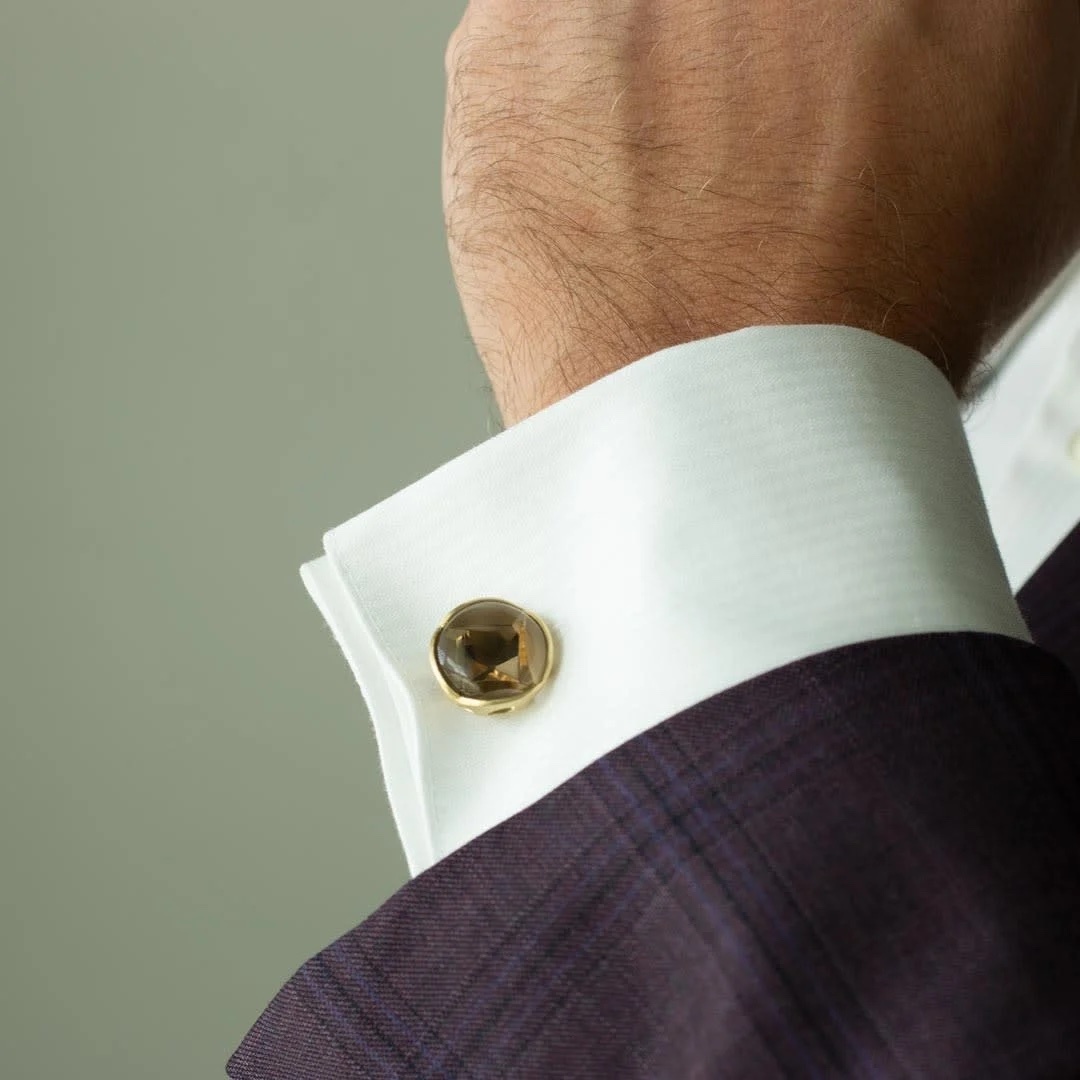 Smoky Quartz, a member of the quartz family, received its name as a result of its dark smokey hues. While some varieties are so dark they lack transparency, others, like the smoky quartz featured in our cufflinks, allow light to pass through and shine with its stunning faceted cut. Our Smoky Quartz Cufflinks feature 23.1 carats of stunning Munsteiner carved smoky quartz stones set in 18k yellow gold for a modern and masculine look. 
Smoky quartz has long been known to possess metaphysical properties. Due to its rich deep smoky hue, the stone is oftentimes considered a grounding stone, designed to bring you closer to Earth. Its ties to earth make this stone especially good at warding off stress and promoting relaxation in difficult situations.
Meteorite Disc Cufflinks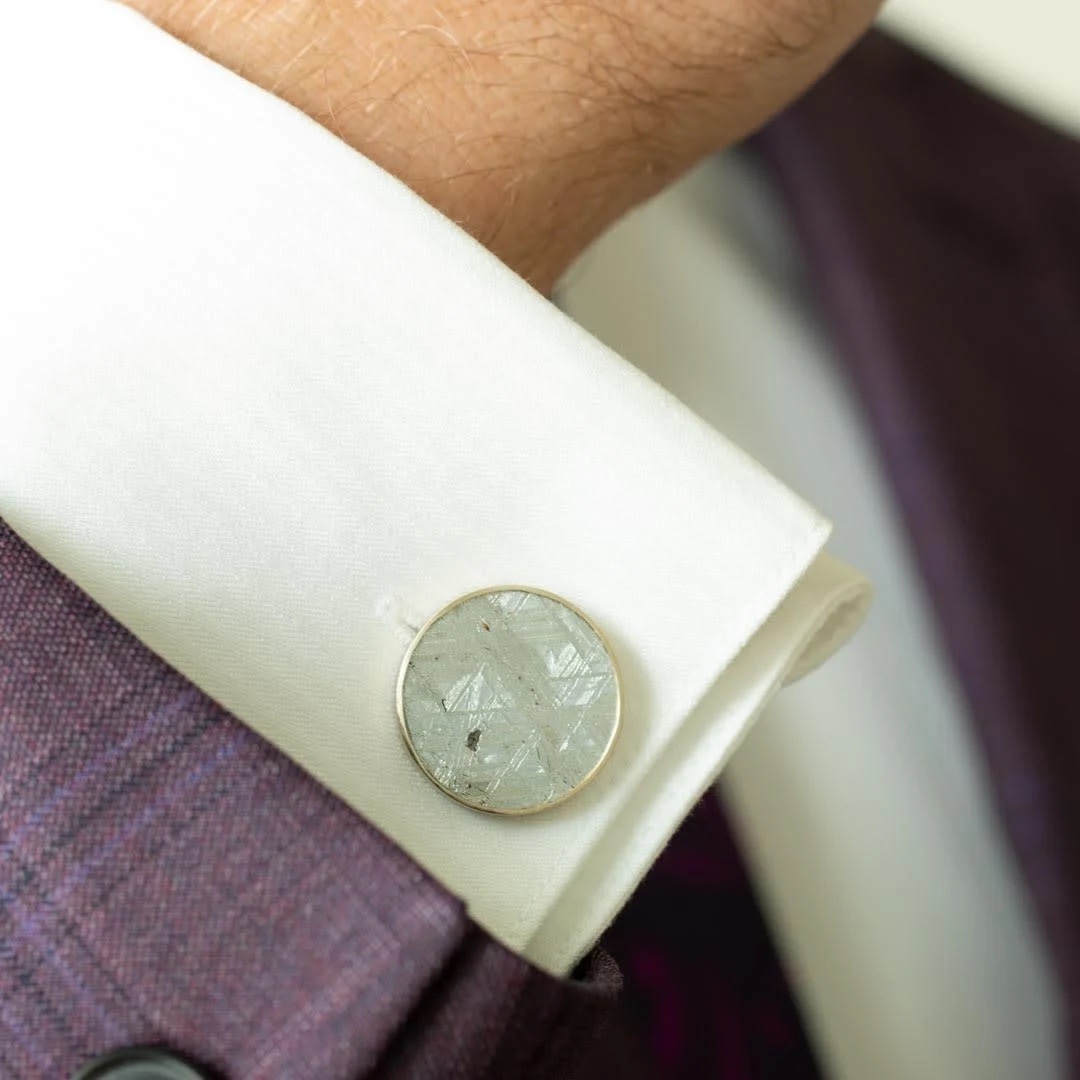 Masculine, refined, and completely unexpected. Meteorites are one of the most unexpected stones to integrate into men's pieces like cufflinks. Meteorites represent some of the rarest and most challenging stones to source. Unlike other stones, meteorites, 4 billion years old, fall from the sky as a shooting star, with most of them never reaching the earth's surface. Since ancient times, objects that fall from the sky were believed to be a gift from the heavens, symbolically representing that there is something beyond ourselves and our reality. 
At Tamsen Z, we've carefully selected these remarkable discs of meteorite and set them in 18k white gold for our uniquely masculine
Meteorite Disc Cufflinks
. What makes these meteorite cufflinks so incredible is their cross pattern, also known as Widmanstätten, which refers to the crystal structure that appears to be etched across the irons' surface. Their understated color and powerful symbolism make them a great pair of tuxedo cufflinks for formal events.
Watermelon Tourmaline Slice Cufflinks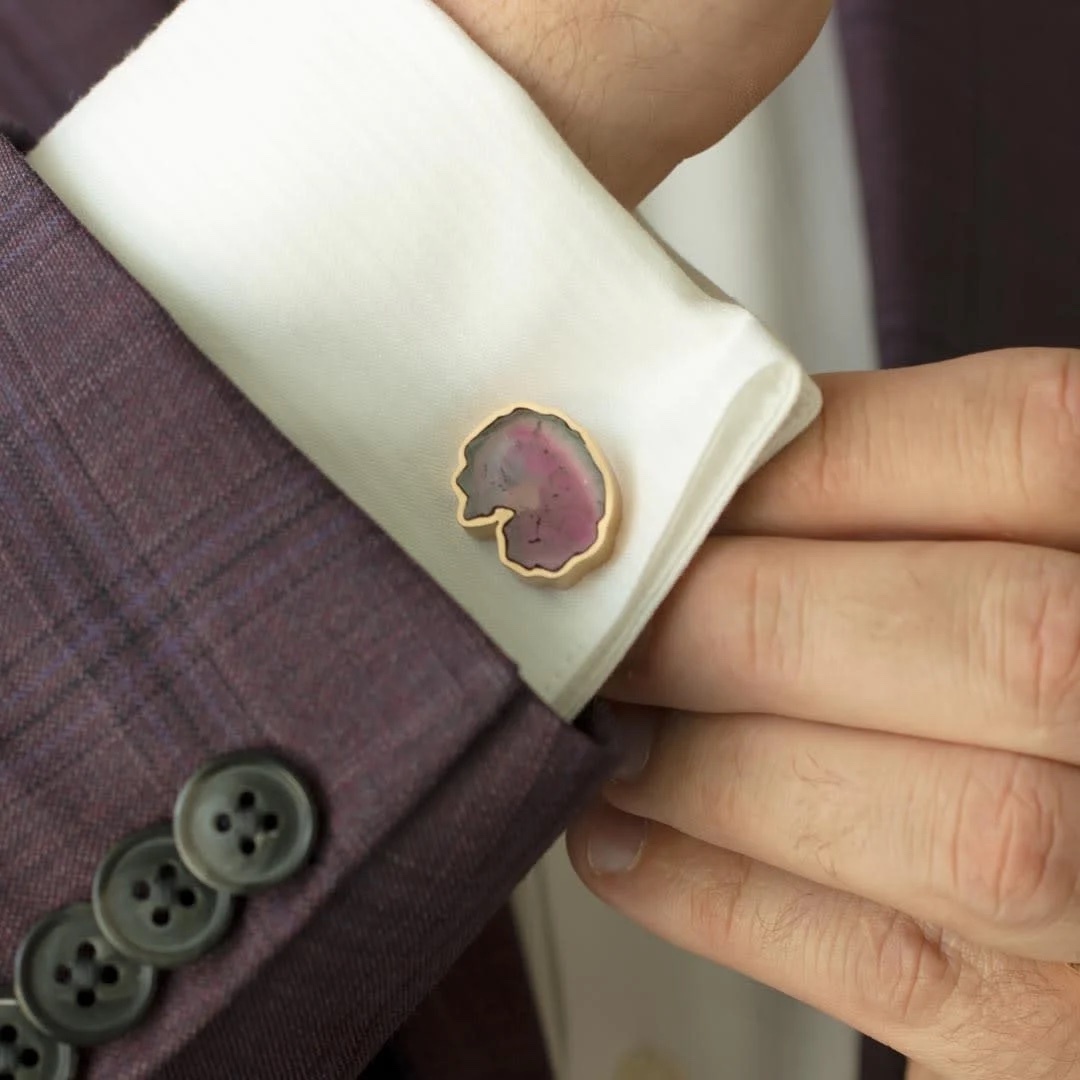 Watermelon Tourmaline, named after its unique resemblance to watermelon fruits, is easily recognizable by its pink center and green perimeter. Known to be one of the most powerful stones, watermelon tourmaline encourages us to "listen from the heart." Full of meaning and symbolism, the watermelon tourmaline is believed to encourage its wearer to allow their heart to guide all areas of life, including business, relationships, or otherwise. There's no better way to "wear your heart on your sleeve".
Set in 18k yellow gold, Tamsen Z's Watermelon Tourmaline Slice Cufflinks make the ideal cufflinks for wedding grooms or as a gift to a loved one. On a day that's all about love, the symbolism of listening to your heart is more important than ever. 
Rough Diamond Cufflinks

Raw and unprocessed, the rough diamond is kept in its naturally occurring state leaving it with a rough texture and raw feel. While diamonds are considered one of the most brilliant and precious stones, at Tamsen Z, we're constantly looking to transform the way our clients view beauty. Here, we see a stone that is natural and untouched. It's not the typical brilliant and polished diamond you'll see, it's rough and textured, highlighting the stone's natural beauty.  
Unconventional diamond cuts that highlight the diamond's natural beauty run deep in Tamsen Z's DNA. From our unique diamond slice collection to our use of diamond nuggets in our Rough Diamond Cufflinks, we're proud to constantly push the boundaries and reinterpret jewelry to be contemporary and modern.
Conclusion
To conclude, the history and significance of cufflinks make them a timeless accessory. For fathers, sons, grooms, or even businessmen, cufflinks mark a conspicuous symbol of strength, conviction, and status. At Tamsen Z, our use of precious and rare gemstones and metals makes the time-honored tradition of cufflinks in menswear both meaningful and symbolic. From fossilized wood to meteorites and raw diamonds, our cufflinks flawlessly marry modern men's jewelry with contemporary designs.