Coronation Jewelry: What Jewels to Expect at King Charles' Coronation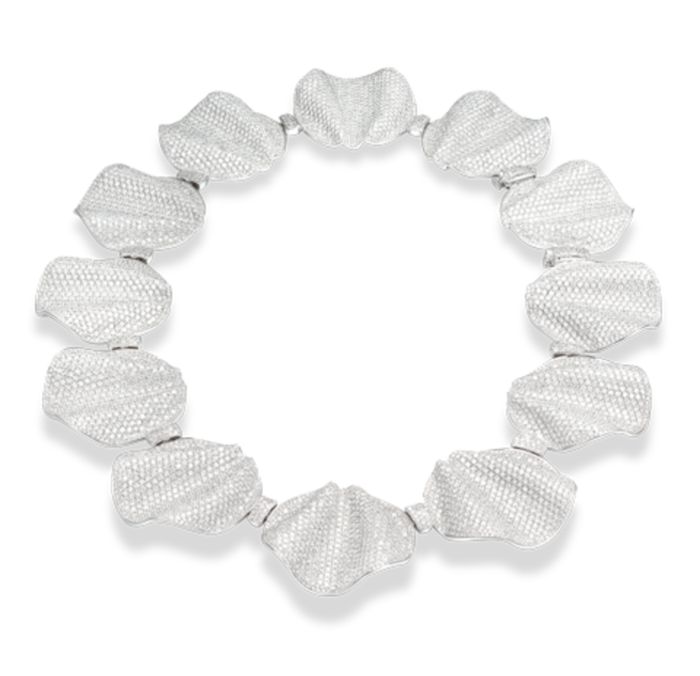 With the King Charles Coronation date quickly approaching, it's only natural we take the time to discuss the Crown Jewels. The British Crown Jewels are a collection of precious objects representing the British Monarch's symbolic role in England's governance. While the Crown Jewels include objects such as crowns, scepters, and orbs, their distinctively royal DNA can be felt across all pieces of jewelry worn by the Royal Family.
The Coronation regalia make up the most precious objects within the Crown Jewels, which are rarely seen or used, perhaps only once in one's lifetime. Worn during the Royal Coronation, the Crown Jewels are meant to symbolize power and authority, while legitimizing the new monarch, King Charles. 
Among the most important stones used in the Crown Jewels and all Royal Jewelry for that matter are sapphires, rubies, emeralds, and of course diamonds! 
At Tamsen Z, it's no secret that we value unique and rare stones, sourced from the most exclusive collections. So, in the spirit of the King Charles Coronation, allow us to show you some of Tamsen Z's most prized high-jewelry pieces, fit for a royal. 
Blue Sapphire, Demantoid Garnet & Diamond Ring
When discussing the Crown Jewels or any jewelry worn by members of the Royal family, sapphires come top of mind! Sapphires are known for their rich royal blue color, rarity, and unmistakable beauty. They have become synonymous with the Royal Family, for good reason.
Historically, sapphires were believed to have magical properties, offering protection and good fortune. And in fact, they're a stone that has been worn by many Royal families outside of the British Monarch.
Tamsen Z's Blue Sapphire, Demantoid Garnet & Diamond Ring features a stunning 40.62 carat oval shaped sapphire. Surrounded by a halo of demantoid garnet and diamonds, this ring exudes royalty. What makes this ring so special is the rarity of its centerpiece sapphire. Not only is the sapphire in this ring a breathtaking size, but it also possesses the most intense deep blue color, which changes to violet in different lighting. 
Stones of this caliber and quality are rare and challenging to source. At Tamsen Z, unique stones like this one are what we do best. This ring is a true high-jewelry piece, worthy of being prized as a collector's piece, and of course, worn to the most exquisite places amongst equally exquisite company. 
Fancy-Cut Diamond & Blue Sapphire Earrings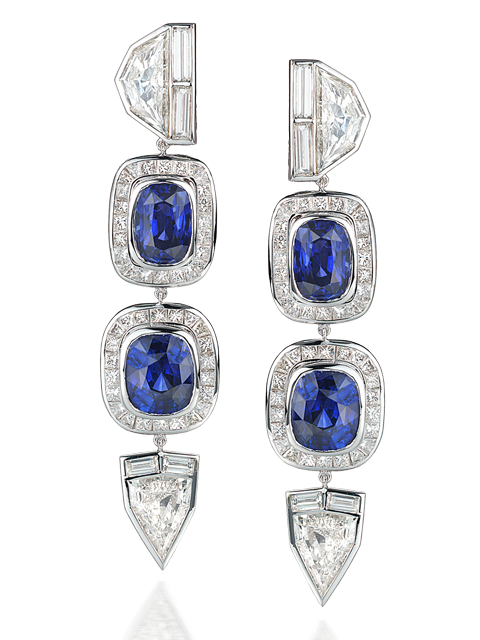 But of course, we couldn't stop at just one piece of sapphire jewelry. After all, we can expect to see many sapphire jewels at the Royal Coronation. Our Fancy-Cut Diamond & Blue Sapphire Earrings contain 19 carats of blue sapphire, and 12.85 carats of diamond, set in 18k white gold. 
While Royal events and engagements typically mean up-do hairstyles, stunning dangling earrings are almost always seen. Not only that, but they almost always coordinate their stone with the color of their dressing. Paired with a royal blue ensemble, our sapphire and diamond earrings look stunning, if not royal.
 Diamond Disk Necklace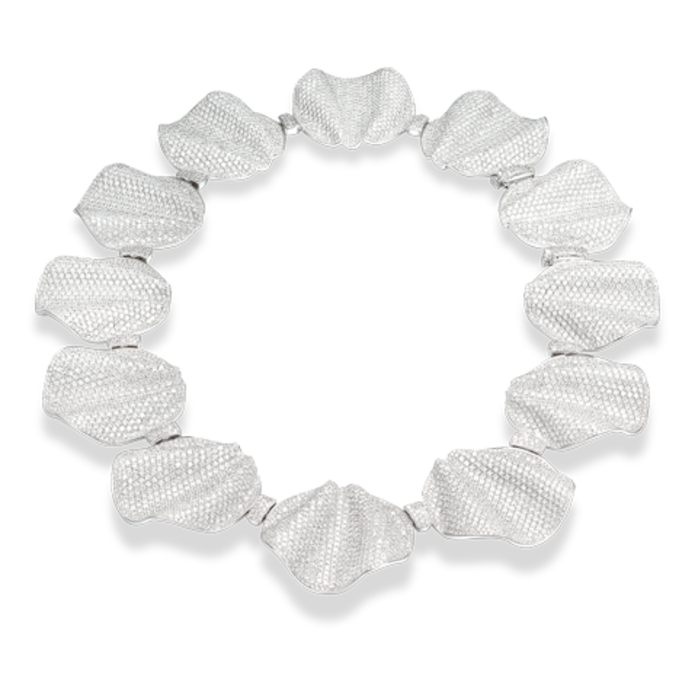 The Royal Family has long had a deep love and appreciation for diamonds, as is evident in their use in the Crown Jewels. Regarded as one of the most precious and valuable stones, diamonds have long been associated with royalty and wealth. 
Many of the most famous pieces in the Crown Jewels contain diamonds, including the Imperial State Crown, which will be worn by King Charles on the Royal Coronation date. Another diamond sighting we can expect to see, the famed Cullinan Diamond, which has been set in the Crown Jewel scepter. 
Diamonds have long symbolized power, strength, authority, and commitment. A fitting association for an event as significant as the Royal Coronation.
Our unique Tamsen Z Diamond Disk Necklace features 74.47 carats of pave diamonds set in a stunning 18k white gold disk motif necklace. Both bold and yet timeless, this necklace perfectly emulates the rare and breathtaking pieces that have been cherished by the royals for centuries, many of which are kept and rarely see the light of day. While the Royal Coronation presents a unique opportunity to see some of the world's most prized jewels, at Tamsen Z we love nothing more than sharing our royal-worthy high jewelry pieces to spark your inspiration for the big day. 
Fire Opal, Yellow Diamond, Orange Sapphire Collar Necklace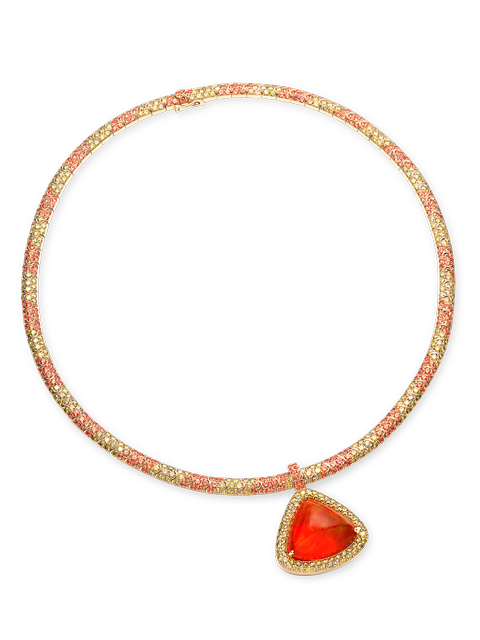 Opals, perhaps one of the most intriguing and unique stones, is another stone that has attracted the Royal Family for centuries. What makes opals so prized and appealing to Royals is their unique and rare colorways. Historically, opals have been given as gifts to members of the royal family. Seen in the form of jewelry and even brooches, in black, pink, and fire colorways.
The main hallmark of Crown Jewels is their use of rare and unique precious stones. Both the stunning size of the jewels and their rich deep colors make them some of the rarest in the world.
With Opals, what makes them truly special is their ability to shift and produce a range of vibrant hues. This effect, known as diffraction, is caused by the interference of light as it passes through the stone. The most rare and valuable opals have the ability to dramatically shift and capture light.
Tamsen Z's Fire Opal, Yellow Diamond, Orange Sapphire Collar Necklace features an 18.97 carat cabochon-cut fire opal. With its collar length, the opal sits as a pendant, captivating light and illuminating your face. The collar is set with yellow diamonds and orange sapphires to draw together the fiery incandescence of the stunning fire opal. 
Conclusion
The Royal Coronation is one of the most rare opportunities to view the prized Crown Jewels in one's lifetime. The King Charles Coronation is expected to be uniquely intimate with only 1,000 guests in attendance, a significantly smaller crowd than past coronations. The Crown Jewels, and even the jewelry that will be worn by members of the Royal Family in attendance, are rarely seen in daylight. Therefore, this marks a unique opportunity to see some of the world's most stunning jewels. 
At Tamsen Z, we're proud to share some of our unique and original designs that feature diamonds, sapphires, and opals, the precious stones most often seen on Royals and within the Crown Jewels. Each piece is entirely original, featuring stones sourced from across the globe, in Ann Ziff's timeless high-jewelry designs.