Colored Engagement Rings For Fall Proposals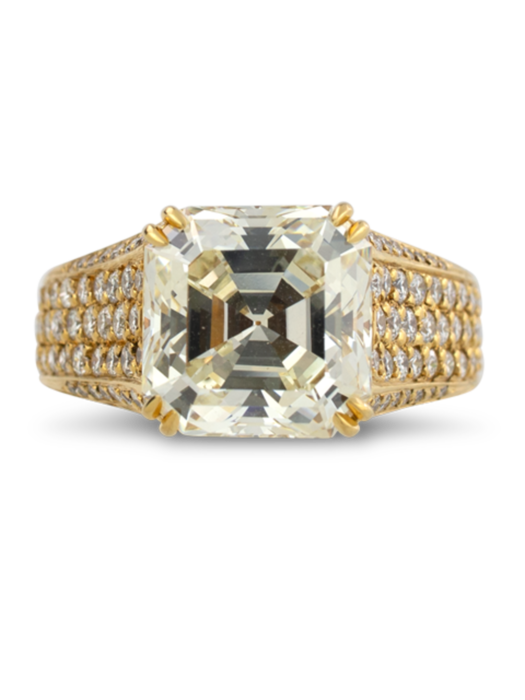 As the fall months approach us, days grow shorter, temperatures drop, and trees everywhere shift from lively hues of green to warm shades of red, orange, and yellow. Inspired by our surroundings, fall is the perfect time to explore colored engagement rings. 
Fall's influence is undeniable. The crisp air, scenery, and harvest shows its influence across all facets of our lives. As we observe these changes, it's only natural we draw inspiration from our surroundings and lean into the fall season. When it comes to engagements, there is no season more romantic and scenic than fall. Picture candid engagement photos with a stunning display of warm leaves. As earthy tones take center stage, consider a colored engagement ring.
While brilliant and clear white diamonds have long reigned as the primary choice for engagement rings, colored engagement rings have become increasingly favored due to the originality and significance they hold. Gemstones have long been known to possess symbolism, significance, and metaphysical properties, which have been harnessed by ancient societies since before Christ. When choosing a colored engagement ring, consider the significance of the stone and how its meaning can symbolize this treasured occasion. 
There is no denying that engagement rings, on their own, possess a great deal of significance. As the ultimate symbol of love and commitment, engagement rings serve as a daily reminder and visual cue of this symbolism. Engagement rings, therefore, present a unique opportunity to utilize gemstones for their meaningful properties as a way to set intentions for the relationship. Eternal love, success, abundance, and health are all excellent intentions to set by carefully choosing gemstones that share these powers. 
Add an additional layer of meaning to your proposal by considering the gemstone associated with the month you met your partner or even the month of your engagement. Colored engagement rings have the unique ability to add personal meaning to your proposal that is exclusively known by those whose love it represents. 
At Tamsen Z, our passion lies in sourcing the most rare and unique gemstones. Each gemstone we source is one-of-one, meaning no one piece of jewelry can be replicated. There's power in originality and we believe in one-of-a-kind engagement rings. In this journal entry, we'll explore some of our most exquisite colored engagement rings for fall proposals.
Cognac Diamond Engagement Ring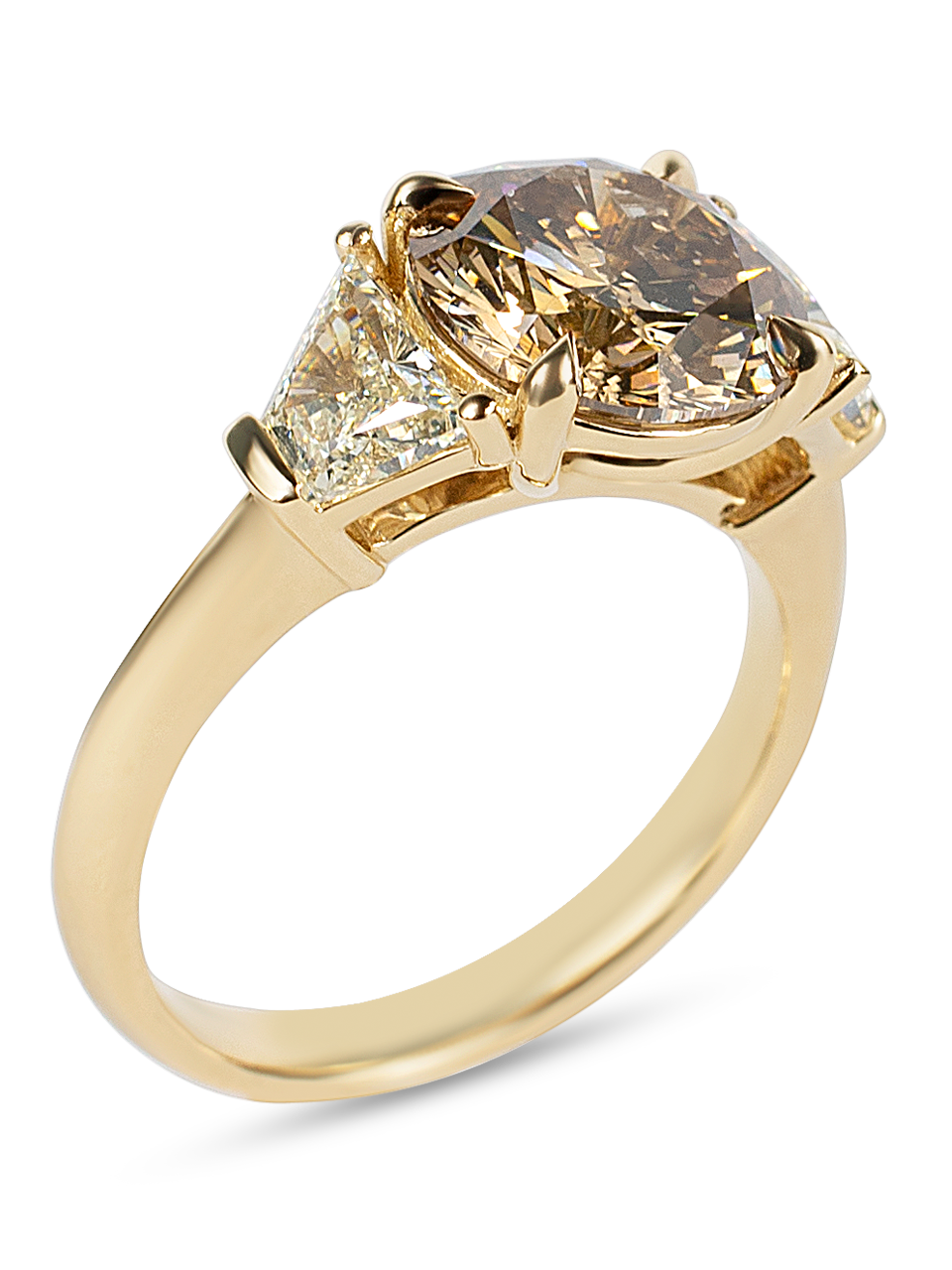 Colored diamond engagement rings have risen in popularity in recent years due to their unique colors, brilliance, and incredible durability. Enjoy the originality of a colored gemstone with the brilliance of a diamond. Cognac refers to a shade of brown diamond that appears as the color of its namesake. Both cognac and champagne are popular hues within the category of brown diamonds, with champagne appearing a pale yellow-brown color. The name cognac is given to brown diamonds that appear a deep warm brown color. 
Cognac diamonds are naturally occurring and are commonly referred to as fancy-colored diamonds. Their unique coloring is typically the result of either nitrogen impurities within the stone or defects in the stone's lattice structure, both of which occur naturally during the stone's formation. When defects occur within the diamond's lattice structure, it changes the way light is refracted within the stone, leading to a changed appearance and color.
This Cognac Colored Diamond Engagement Ring effortlessly marries tradition with contemporary style. Plan your autumnal proposal and consider how colored diamond rings will complement the vibrant colors of the season. 
Blue Sapphire and Diamond Ring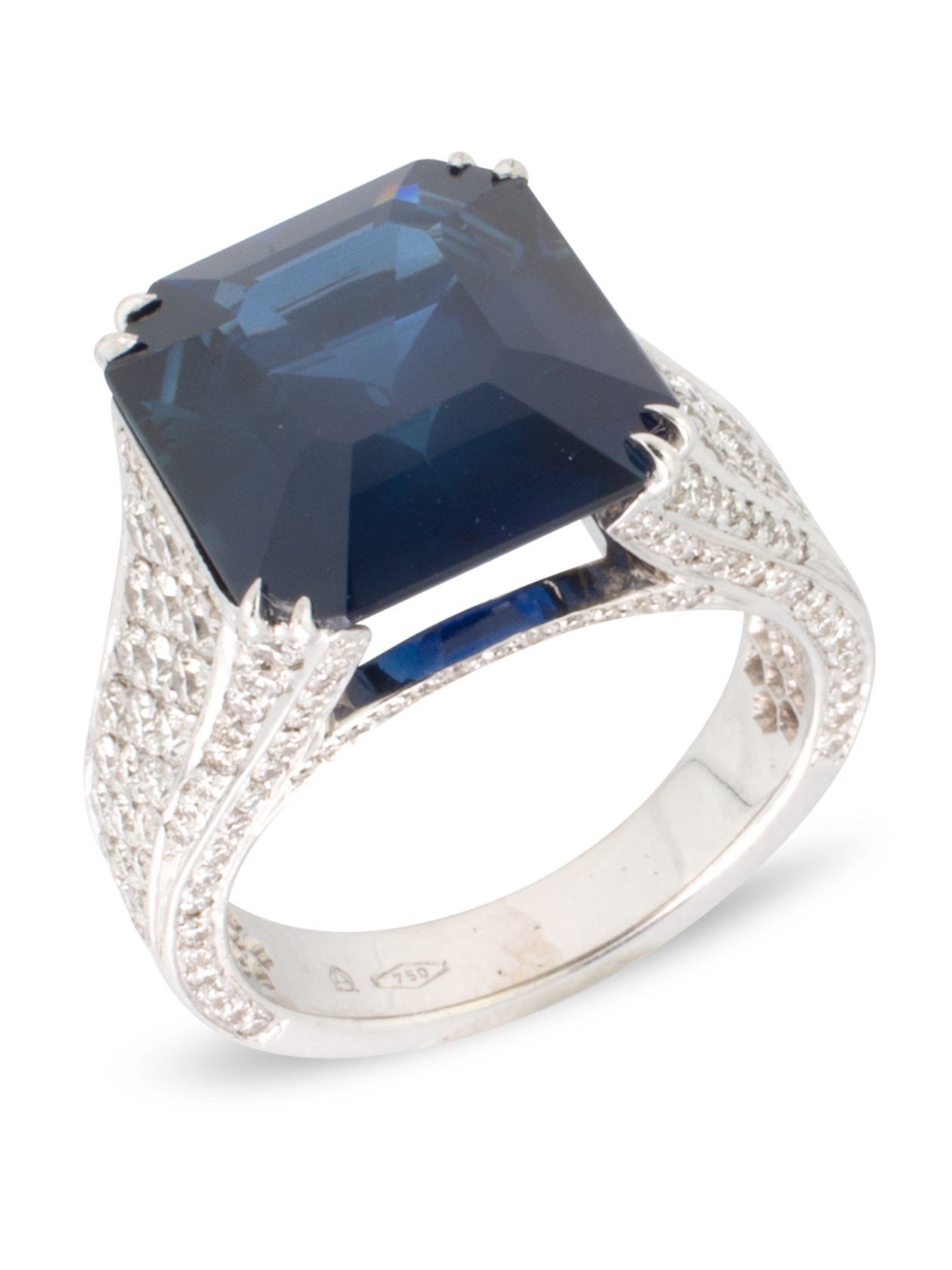 It's inconceivable to discuss colored engagement rings without discussing the blue sapphire. Treasured and beloved by many, blue sapphires are a classic and enduring choice for those seeking a colored engagement ring that is certain to remain timeless. Blue sapphires reflect royalty, refinement, and class, while maintaining a uniquely vintage feel.
Blue sapphires can appear in different shades of blue, depending on the angle with which they are viewed, a feature known as dichroism. This feature allows the blue sapphire to reflect its color brilliantly, displaying a variety of blue hues. 
For those seeking a colored engagement ring for a fall proposal, blue sapphires radiate a deep blue hue that's neutral and easily paired with any color. It's also ideal for everyday wear, boasting an impressive ranking of  9 on the Mohs scale, making it durable enough to endure a lifetime of love.

Our Blue Sapphire and Diamond Ring features an exceptional 10.55 carat GIA certified blue sapphire, surrounded by stunning white diamonds. When it comes to colored engagement rings, there is no stone more classic than the blue sapphire.
Maple Yellow Diamond Ring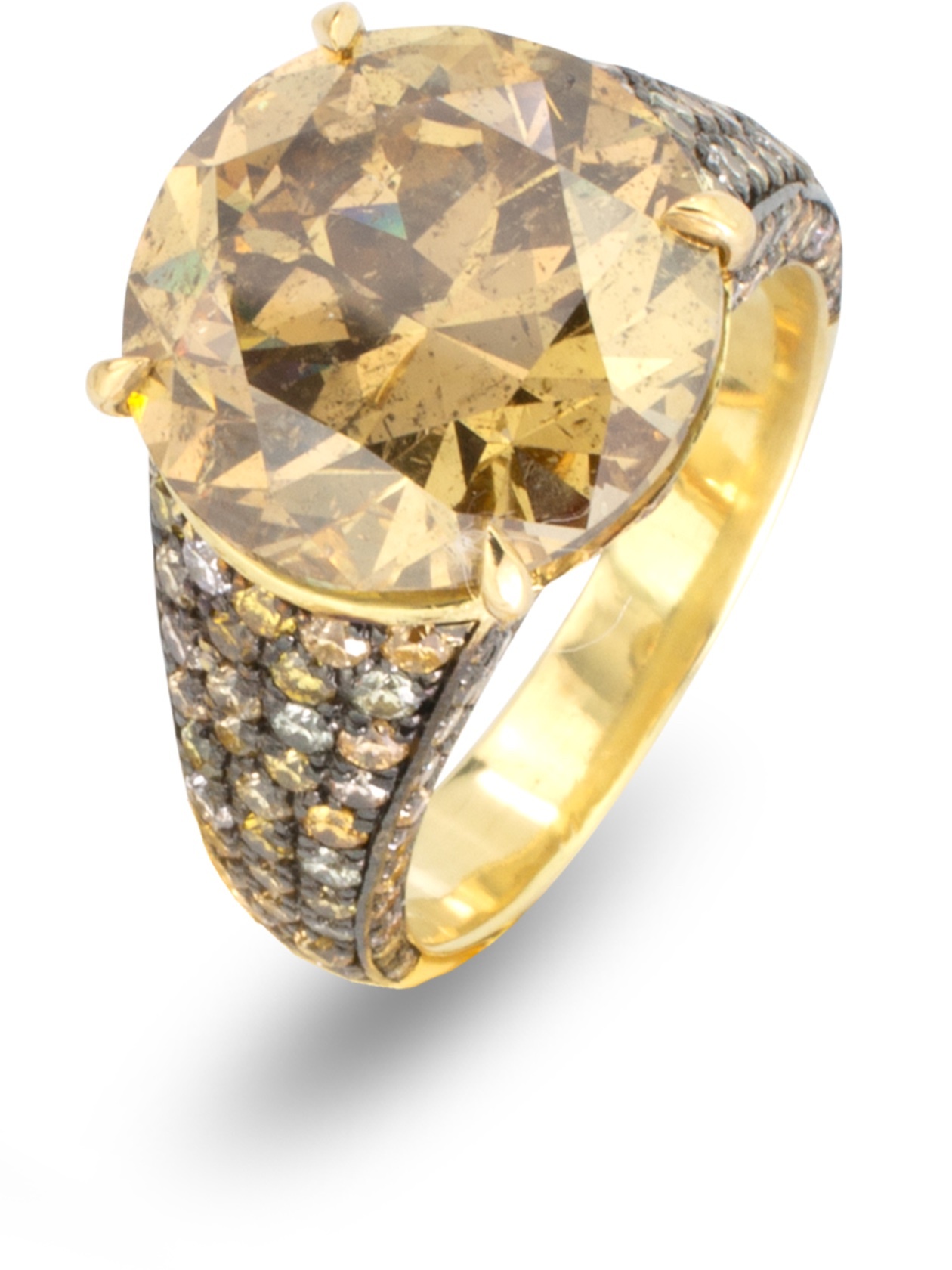 Maple yellow diamonds are uniquely inspired by the warmth and radiance of the autumn season. As maple trees change colors and the leaves become a warm golden yellow, they echo the hues of this namesake stone, the maple yellow diamond. 
Colored diamond rings, like our maple yellow diamond, offer a uniqueness that cannot be duplicated. Yellow as a result of impurities that are present during formation, each maple yellow diamond varies in both color and intensity, similar to the distinctiveness seen in fall's leaves. Rare and incredibly valuable, it is estimated that only 1 carat of colored diamond is mined for every 10,000 carats of colorless diamond.
Our Maple Yellow Diamond Ring features an incredible 7.23 carat maple yellow colored diamond, surrounded by a band of white and fancy yellow diamonds. Combining rustic elegance with warmth, this colored diamond engagement ring proves that although seasonally inspired, its distinctive one-of-a-kind style is timeless.  
Fancy Yellow Diamond Ring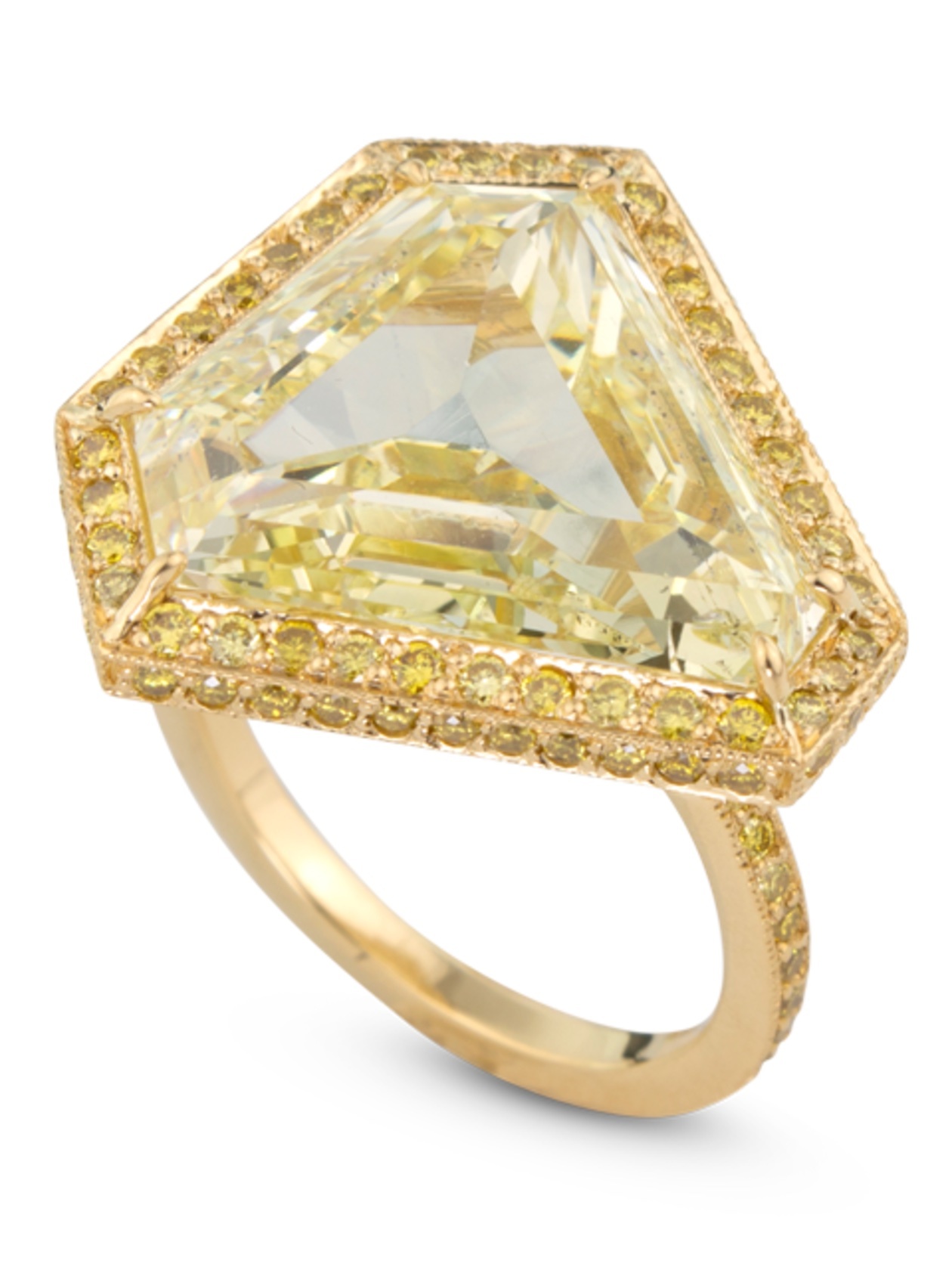 Yellow diamonds, commonly referred to as canary diamonds, have long been lauded for their unmistakable beauty. As a wonderfully unique choice for jewelry, yellow diamonds have become the most popular choice for colored diamond engagement rings.
Admired by many, yellow diamonds are among the most precious in the world. Throughout history, there have been many significant diamonds that have received accolades for their incredible size and beauty, however, one remains the most compelling. First discovered in 1972, the Kimberly Octahedron is a 616 carat fancy yellow diamond and the largest natural diamond in the world. As the largest natural diamond in the world, the Kimberly Octahedron has strengthened both the reputation and desirability of fancy yellow diamonds.
Captivating, warm, and radiant, the fancy yellow diamond is beloved for its vivid display of colors and luxurious feel. Our Fancy Yellow Diamond Ring is perfect for those seeking a colored diamond engagement ring that breaks tradition and reflects your own unique sense of style. Featuring a 6.47 shield cut fancy yellow diamond that is surrounded by a halo of warm yellow diamonds and 18k yellow gold, it radiates warmth and mirrors the inviting hues of the fall season.
Conclusion
As the most colorful season approaches, we explore some of Tamsen Z's colored engagement rings that we feel echo the vibrant colors of the season. While traditional diamond engagement rings will always remain the prevailing choice, colored engagement rings continue to gain popularity. Colored gemstones are known for their metaphysical properties and deep symbolism, adding an additional layer of meaning to one of life's most significant days. 
Consider choosing a colored diamond or colored gemstone for your fall engagement. With their value, scarcity, and unique coloring, they perfectly encapsulate the one-of-one nature of true love. With each of Tamsen Z's colored engagement rings, Ann Ziff proves that engagement rings can be both bold and classic.