Peridot Stone: Nature's Evening Emerald
Peridot, also known as olivine, is a pale green gemstone whose distinctive pale green color earned it the title of 'nature's evening emerald'. The name peridot hails from the French word peritôt, meaning unclear, which refers to the internal fractures and inclusions that are characteristically present within the peridot stone. 
The peridot stone occurs in one singular color, however, this signature green can range from pale yellow-green to deep olive, and brownish green depending on the degree of iron present within the stone.  The green hue of peridot is extremely uncommon and has been admired throughout history for its likeness to the highly treasured emerald. 
The tale of peridot's origins is quite literally out of this world. On Earth, peridot stones form near volcanic areas in silica-poor igneous rocks like basalt. However, in special cases, some Peridot samples were not formed on our planet but traveled to its surface on meteorites. "Pallasite" meteorites are fragments of the birth of our solar system. These peridot specimens are profoundly rare, and are scarcely seen in jewelry making. 
The History and Significance of Peridot Stones
Peridot stones have been treasured for centuries, dating back to the second millennium BC. The stone was initially admired by ancient Egyptians, with the first deposits uncovered within the small volcanic island of Topazios, now known as St. John's Island. The ancient Egyptians referred to peridot as the "gem of the sun" and believed that the stone's magnificent green glow could protect its wearers from the terrors of the night. The belief that the peridot stone possesses the power to conquer its wearers' nightmares, is a remedy still present in Egyptian culture to this day.
Modern-day jewelry historians believe that the ancient Egyptians had mistaken deep green peridots for their precious green counterpart, the emerald. Cleopatra herself was known for her passion for emeralds, which were often featured in her royal adornments. Today, Cleopatra's famed emeralds are believed to have been deep green peridots, given their abundance in ancient Egyptian mines. 
Beyond ancient Egypt, peridot stones hold considerable significance and metaphysical properties that make them a sought-after gemstone for mineral specimens and jewelry collectors alike. As the birthstone for the month of August, peridot stones are believed to bring good health, rest, peace within relationships, compassion, and balance to its wearer's emotions. For artistic minds, peridot is believed to inspire creativity and eloquence.
In the month of August, we shine a light on the beauty of the "gemstone of the sun", the significance it holds as a birthstone, and Tamsen Z's stunning interpretations in glowing high-jewelry pieces. 
Peridot and Gold Bracelet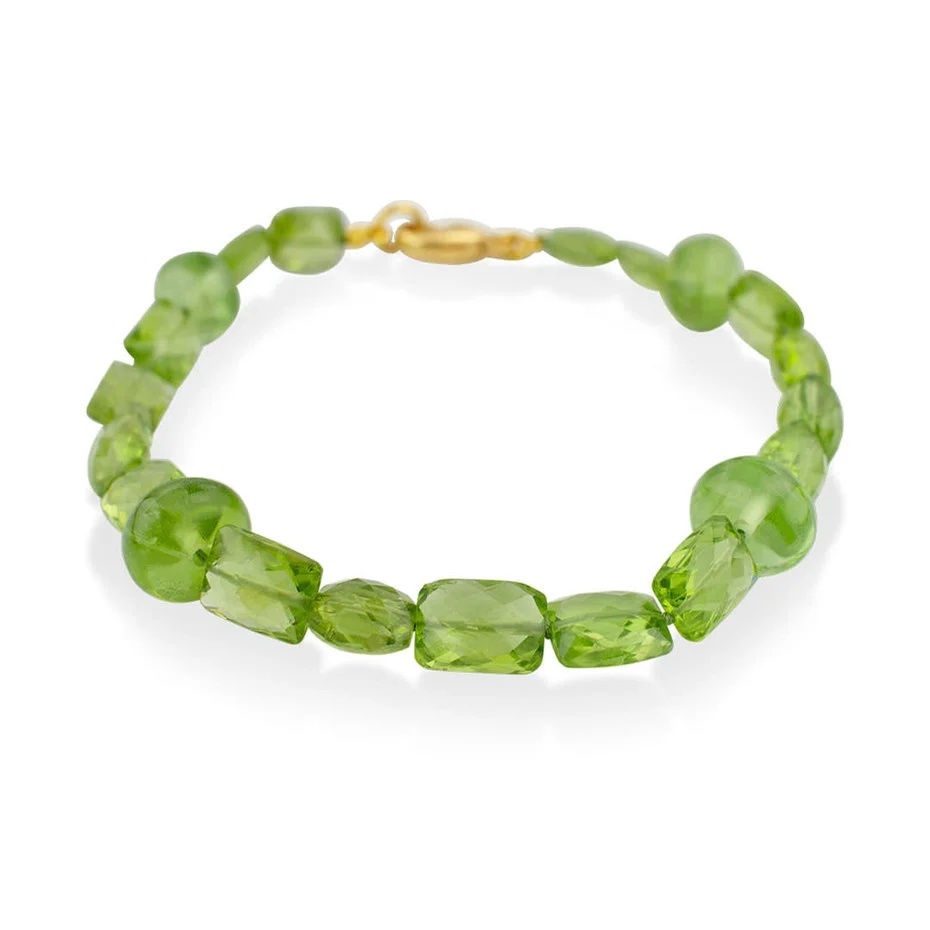 Peridot stones are known for their imperfections. Inclusions, such as black dots, lily pads, and needles, are characteristic of the green peridot's natural beauty. The small black dots that appear within the peridot are composed of small crystals that were absorbed by the peridot during its formation. While large inclusions typically reduce the value of a gemstone, the inclusions that characterize peridot stones contribute to its allure and natural beauty.
Our stunning Peridot and Gold Bracelet combines 73.50 carats of faceted peridot stone beads with 18k yellow gold. Each bead is intentionally selected for its unique properties and hand-strung by Ann Ziff herself. 
At Tamsen Z, we've skillfully used peridot beads to showcase the stone's brilliant green glow and natural imperfections by capturing and reflecting light from every angle. Admire the beauty of our Peridot and Gold bracelet and wear this evening emerald from day to night.
Peridot Ring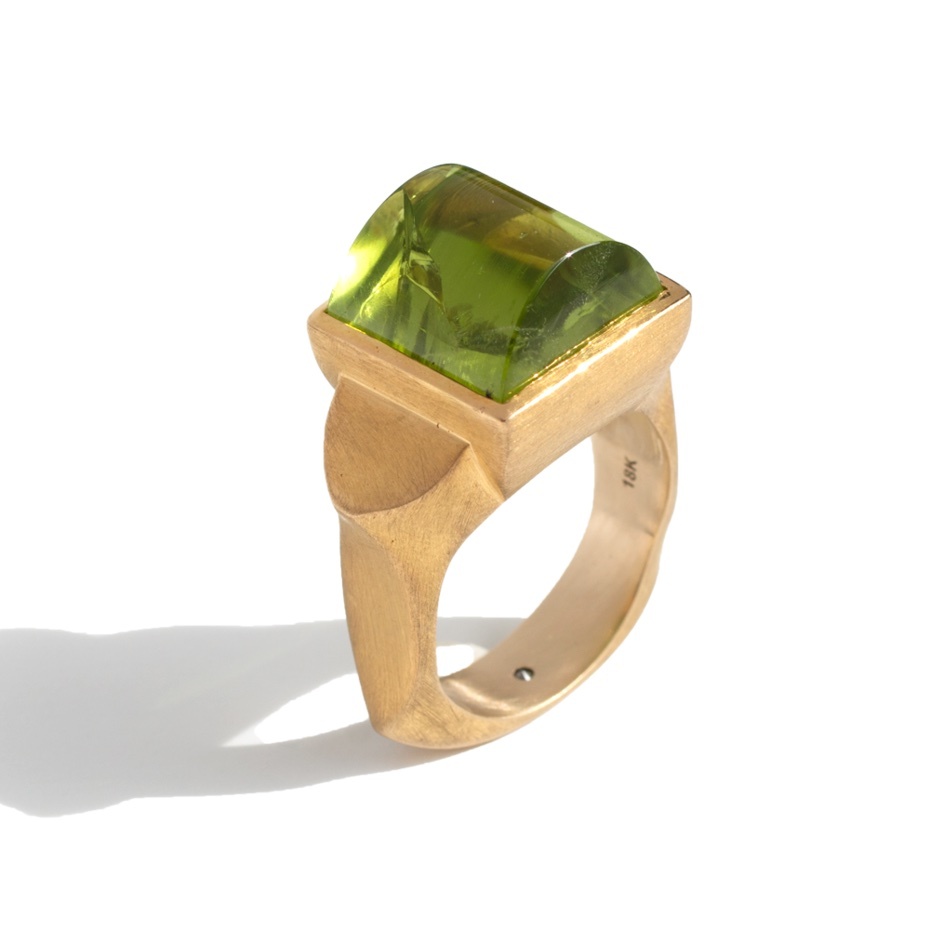 The cabochon cut has long been appreciated by fine gemstone collectors for its unique ability to show off the stone's natural beauty. The smooth polished surface of the cabochon can be thought of as a window that displays all of the stone's details, imperfections and all. 
Peridot stones are known for being unclear, as their name origins would suggest, and are characterized by their internal fractures and inclusions. Our Peridot and 18k Yellow Gold Ring skillfully showcases the inner formations of the peridot stone.
While clear and brilliant stones are highly desirable, transparency and clarity are not characteristics that contribute to the peridot stone's beauty. At Tamsen Z, we believe in paying homage to the stone's natural beauty, highlighting imperfections and allowing nature's inclusions to reflect and capture light, creating unique shapes that glimmer and dance. 
Meteorite Slice Specimen
Pallasites make up a class of meteorites which are incredibly rare and challenging to source. Their rarity comes from the combination of metals and minerals they contain. Combining nickel, iron, and peridot crystals, pallasite meteorites boast a stunning mosaic pattern.
There are only 61 pallasite falls known to date, many of which do not produce high-quality whole meteorites. Therefore, Pallasite Meteorites of the size and caliber seen here, sourced in partnership with Fine Minerals International, are scarce treasures coveted by many. This impressive Meteorite Slice Specimen originates from Magadan, Russia. Filled with peridot and displaying the infamous Widmanstätten cross pattern etched across the iron, it's both a work of art and a display of natural celestial beauty. 
Though the peridot stones found within meteorite specimens are rarely of gemstone quality or suitable for use in jewelry, this stunning display of colors and patterns makes it an art piece that's worthy of display. 
Peridot and Green Diamond Earrings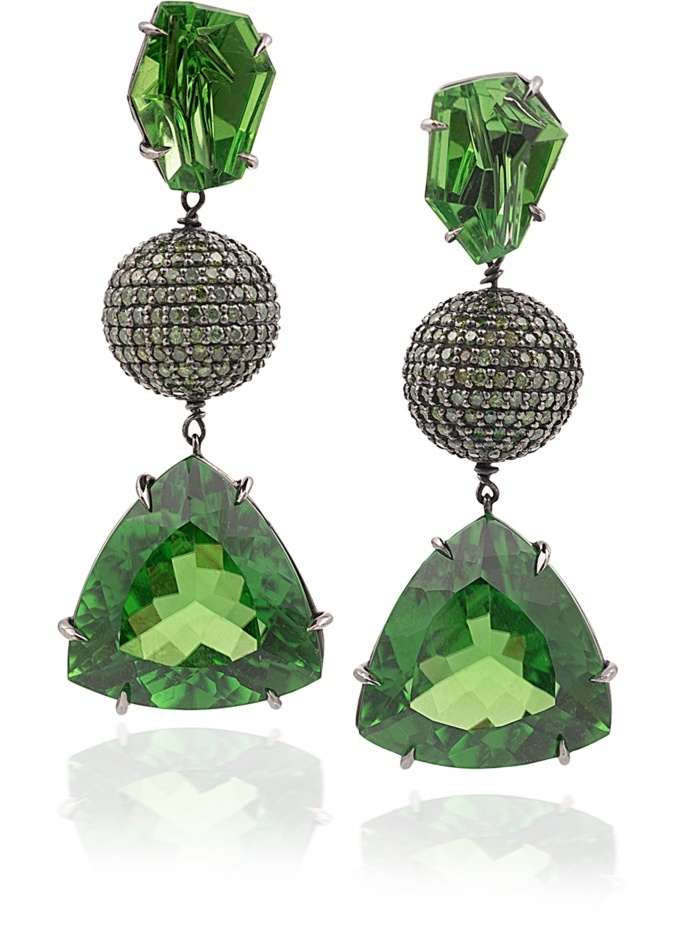 Peridot stones are relatively soft, commanding a 6.5-7 on the Mohs scale. Similar in hardness to a quartz stone, peridot boasts durability that makes it suitable for use in jewelry, though some care should be taken to ensure the stone doesn't scratch or fracture. Due to the peridot stone's relative softness, it can be cut or carved into nearly any shape, making it an excellent candidate for expert gemstone cutters like Atelier Munsteiner.
Our Peridot and Green Diamond Earrings combine 7.26 carats of breathtaking Munsteiner cut peridot stones with 30.43 carats of trillion cut peridots, stunning green diamond pave, and bold rhodium-washed white gold. 
Faceted peridot stones like the ones in these earrings require a high degree of clarity in order to reflect light in an unobstructed manner. Due to the peridot's unclear nature, brilliant and clear peridots are extremely rare and valuable. The artful Munsteiner cut peridot stones in these earrings display the expert cutting skills of Atelier Munsteiner and the incredible clarity and value of the stone. 
Mintabie Opal and Peridot Necklace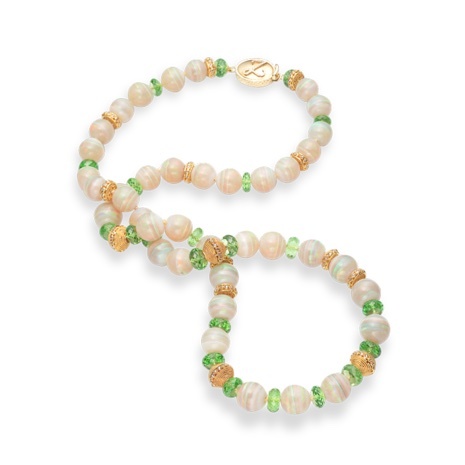 Handstrung beaded jewelry runs deep in Tamsen Z's identity. Gemstone beads possess the ability to showcase the gem from every angle, reflecting light, and displaying the stone's natural beauty. The glowing bright green hue of peridot brought the stone to fame and captured the admiration of many throughout history. Combined with mintabie opal, the peridot reflects brilliantly and draws out the opal's glowing green hues. 
Our Mintabie Opal and Peridot Necklace combines the rich glow of two of nature's most precious stones to create a piece that can be worn from day to night. Combining 337.70 carats of mintabie opal with 26.50 carats of peridot, as well as 22k and 18k yellow gold and diamond beads for a resulting necklace that's warm, elegant, and effortlessly chic.
Conclusion
Peridot stones hold an allure that has captured the human imagination since ancient times. This unclear gem has been regarded as the "gem of the sun" by ancient Egyptians, and its significance continues to reign true today. Known for their ability to ward off night terrors and bring creativity, eloquence, calm, and compassion to their wearer, peridot stones are the perfect birthstone for those born in the month of August. 
At Tamsen Z, our appreciation for peridot stone stems from our firm belief in highlighting each stone's natural beauty. Using delicate beads, cabochons, and munsteiner cut peridots, Ann Ziff elegantly showcases the stone's natural beauty and pays homage to its reputation as the evening emerald.